INNR Smart Outdoor Pedestal Light Colour
Review of the smart outdoor lighting from INNR.
We have previously reviewed products from INNR, this time it is the turn of the Smart Outdoor Pedastal Light Color. If I can translate the name of this product into Dutch, these are "smart outdoor lamps that are incorporated in a pole" and oh yes, they also give different colors. So we stick to the English name.
They are small posts in which LEDs are incorporated. With these LEDs you can make all the colors of the rainbow. According to INNR even 16 million different colors. So your color is definitely there. The lamps have 7 white LEDs and 7 RGB LEDs. This also allows you to make beautiful warm or cold colors.
This set comes with 3 pillars, which are 27 cm high. This height is perfect to illuminate your path well. That lighting goes very well because the lamps have 14.5W of power (per lamp). This equates to 30W compared to an old-fashioned light bulb. The part where the LEDs are located is 105mm high and has a beam angle of 55 degrees. The pillars have a matte black finish, which gives it a luxurious look.
To get the lamps properly in the ground there is a pin at the bottom. The whole is of course good wind and waterproof (ip65). Make sure that the power supply is splash-proof (ip44), so make sure it hangs a bit from the elements.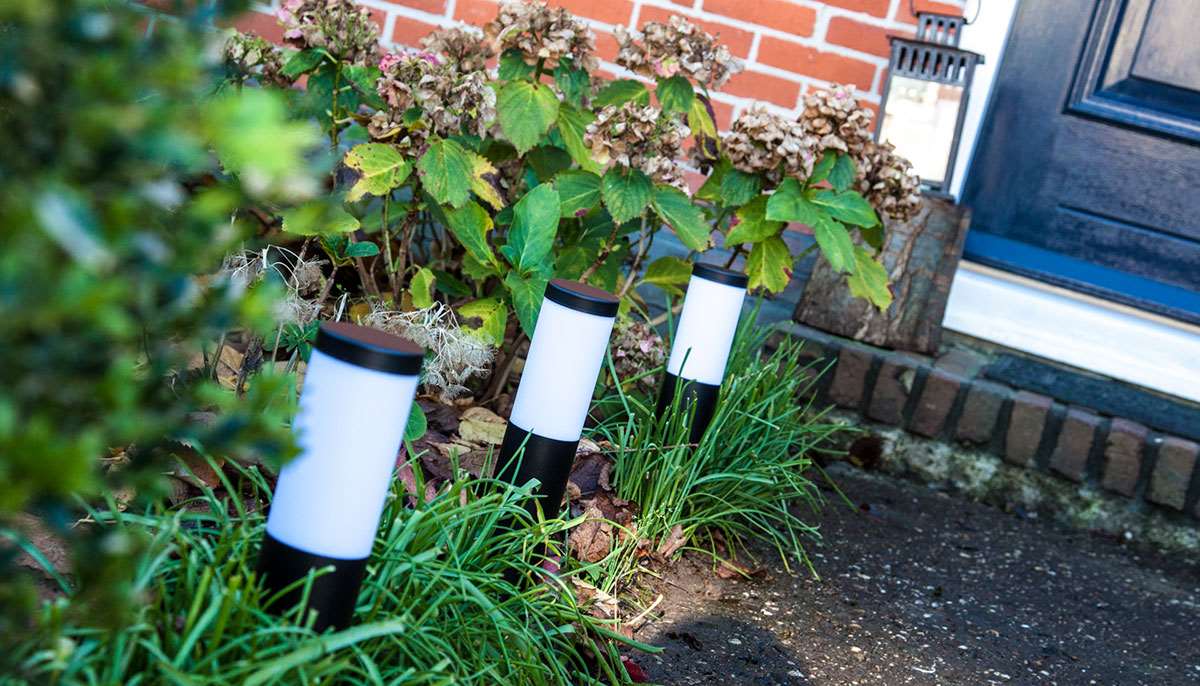 Bring on those smart home systems
These lamps work via the Zigbee protocol, so in theory it can work with all controllers that support this standard. We will of course do it again with some different tests.
The lamps are mutually connected by a smart system that you can tighten tightly. The last lamp can be placed at about 9 meters from the socket. You also have 30 cm from the main wire to the pole, so you can dig the main cable well into the ground. Very safe, if you put a shovel in it anyway, you are not immediately under power because the lamps are 24V.
The system is designed in such a way that you can easily connect other lamps to the main wire. Such as a spot.
These lamps are for sale for € 159.99 which makes them very competitively priced. If I compare this with the Philips HUE Calla plinth (25 cm), then these are a lot more expensive with a price of € 285.85.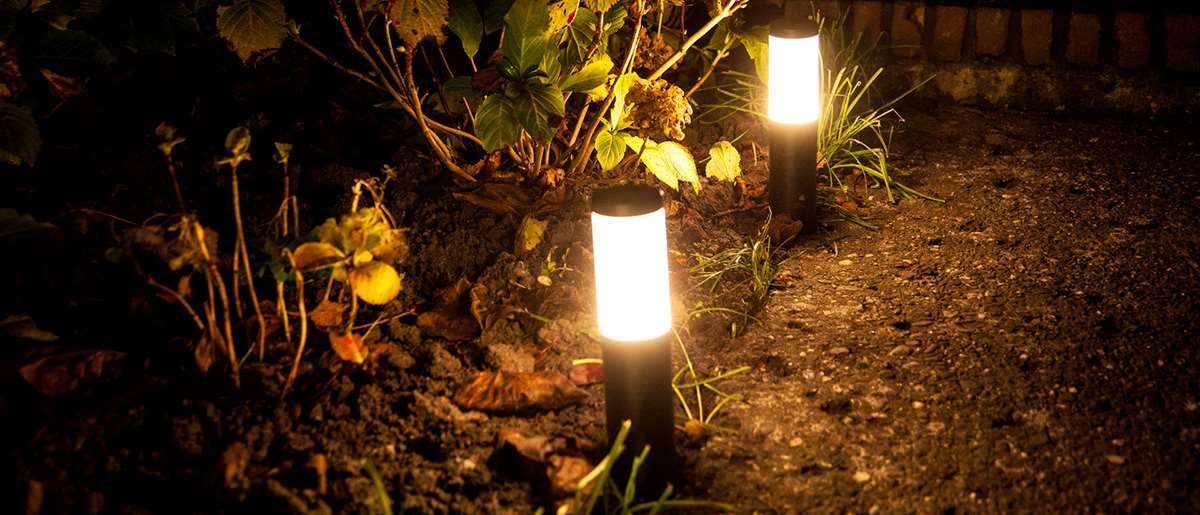 What do you get:
- 3 pillars/lamps
- Power supply (220V to 24V)
- Control box (for Zigbee part)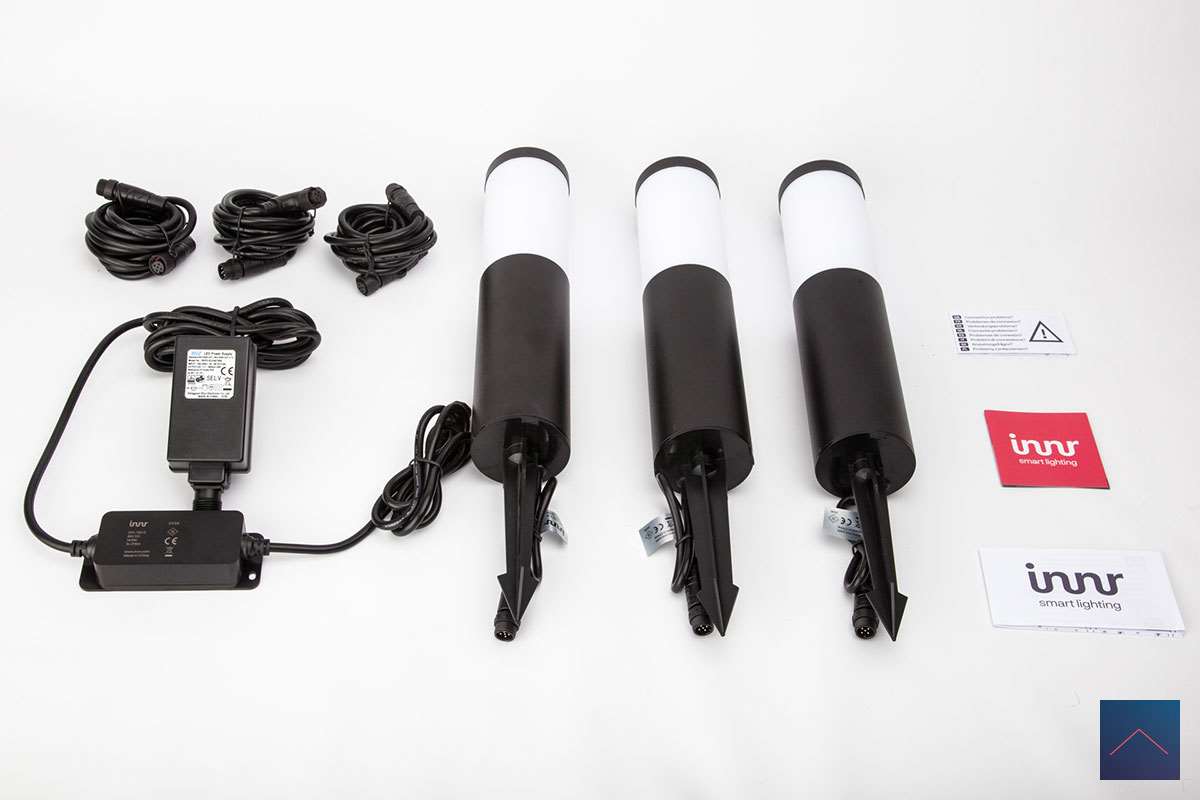 Specifications:
Quantity of colors

 
16 miliion

Color temperature

 
1.800 - 6.500K

Light quality (CRI)

 
> 80
Lumen (per unit)
 
215 lm

Quantity of LEDs

(per unit)
 
7+7 LEDs (7

white

+ 7 RGB)

Life expectancy

 
30.000 uur

Power consumption

(per unit)
 
4.5W
Protocol
 
Zigbee
IP rating
 
IP65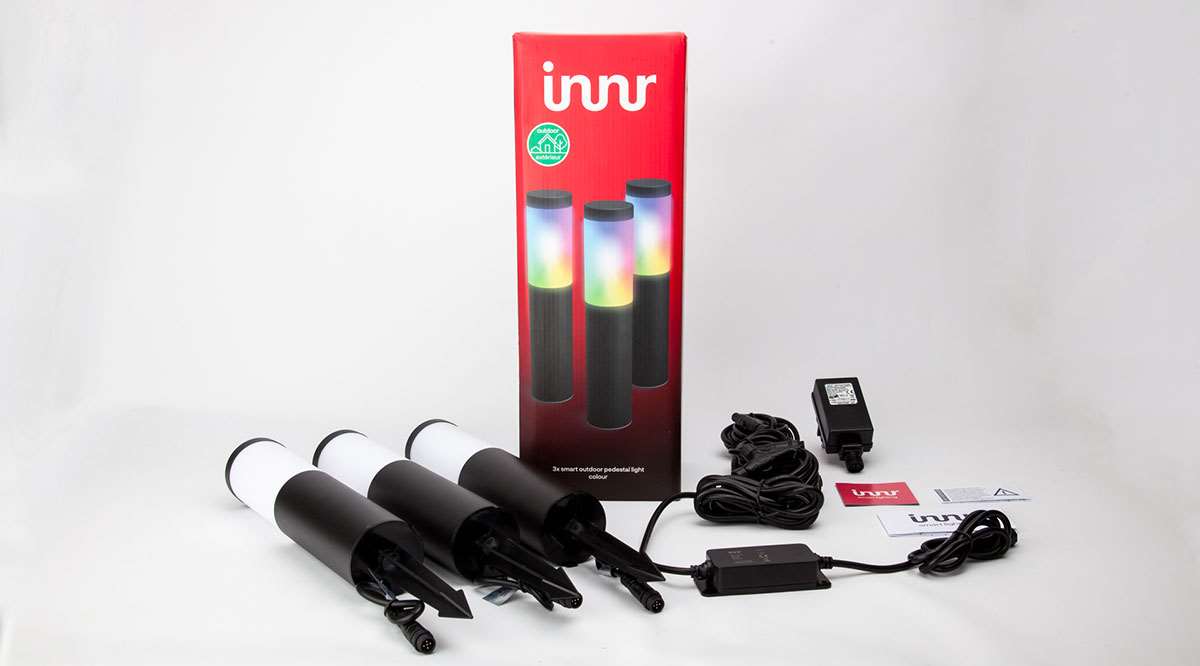 We will install these lamps on the following controllers:
- INNR gateway
- Homey by Athom
- Zipato Zipatile
- Philips HUE
- ZipaTile
- Vera Plus
- Ikea Tradfri
Table of content
This product is for sale for:
---
€ 160
Buy
---