INNR Smart Filament Bulb vintage (RF-261/RF-264)
Review of a smart bulb with an old-fashioned look.
We have received a few new products from INNR which we will provide with a review. INNR is a Dutch manufacturer that makes smart home products. They mainly focus on smart lighting. They have been making products since 2012, so they are no longer a newcomer and know what they are doing.

INNR can be compared in several ways with Phillips HUE products. They both use the Zigbee protocol and have a wide range of lighting products. Both also have their own smart home controller for control.

Today we test the Smart Filament Bulb Vintage. To be more precise, we look at the RF-261 (a large lamp) and the RF-264 (small lamp). These are sold separately and have the same hardware.

These filament lamps have a special design because of the LEDs you can see. These are visible in beautiful rods, which makes them look like an old-fashioned light bulb. In addition, the lamps have a golden color. This is in the base as well as in the glass. Looks luxurious.

Fun fact is that INNR is the first manufacturer in the world to make the filament lamp smart.

The RF-261 is for sale for € 23.99 (or as a 2 pack € 47.99) and smaller RF-264 is for sale for € 18.99 (2 pack for € 37.99). This is reasonably priced for this type of lamp. If we compare this with HUE you pay: € 39.95 for the large one and € 24.95 for the small one. That saves a few euros.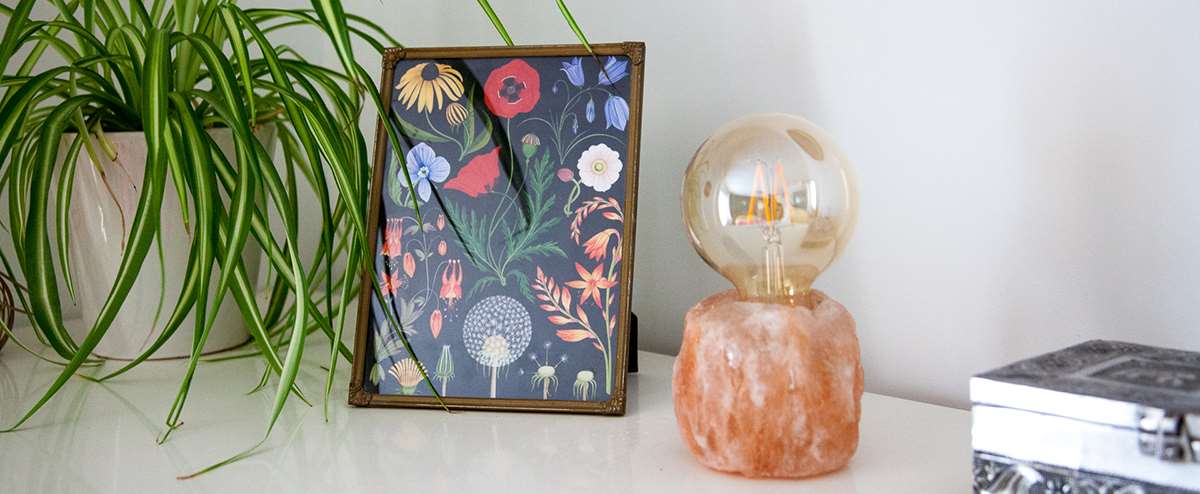 Making the Comfort of Smart Lighting available for anyone
INNR distinguishes itself through products that are accessible to everyone. So Jip and Janneke can also work with these products. There is an easy interface and the lamps are easy to add.

Since INNR uses the Zigbee protocol, which is basically an open system, you can also use their products on other systems. We will of course test a few.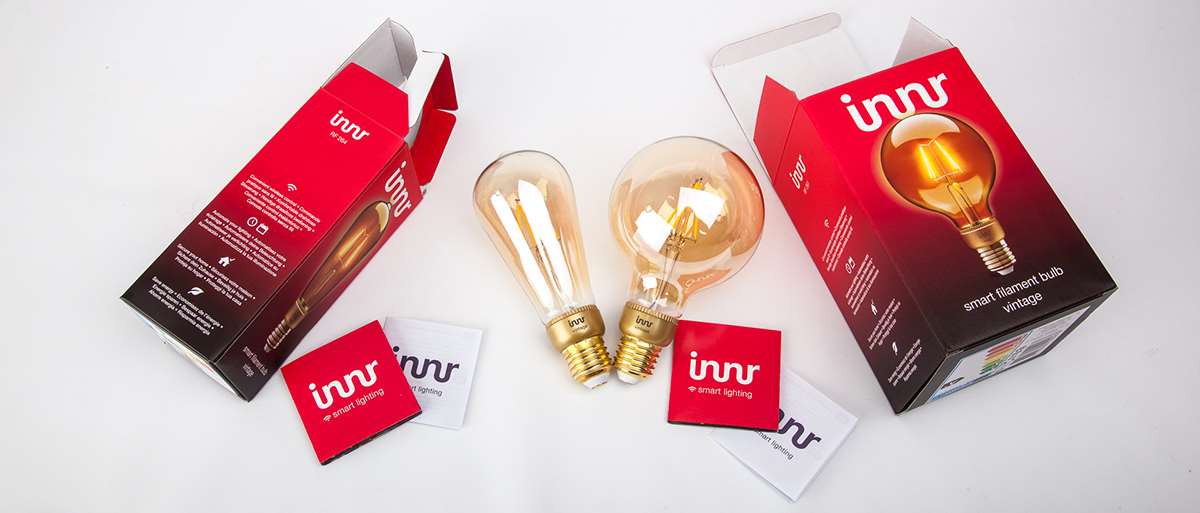 The lamps have a light temperature of 2,200 Kelvin. If you compare this with an old-fashioned incandescent bulb, this is a bit on the warm side, because it gives 2,800 Kelvin. I personally like this. The lamps cannot be adjusted in color. You can dim them and of course switch them on/off.
What do you get:
- Lamp
- Installation manual
- Catalog collection INNR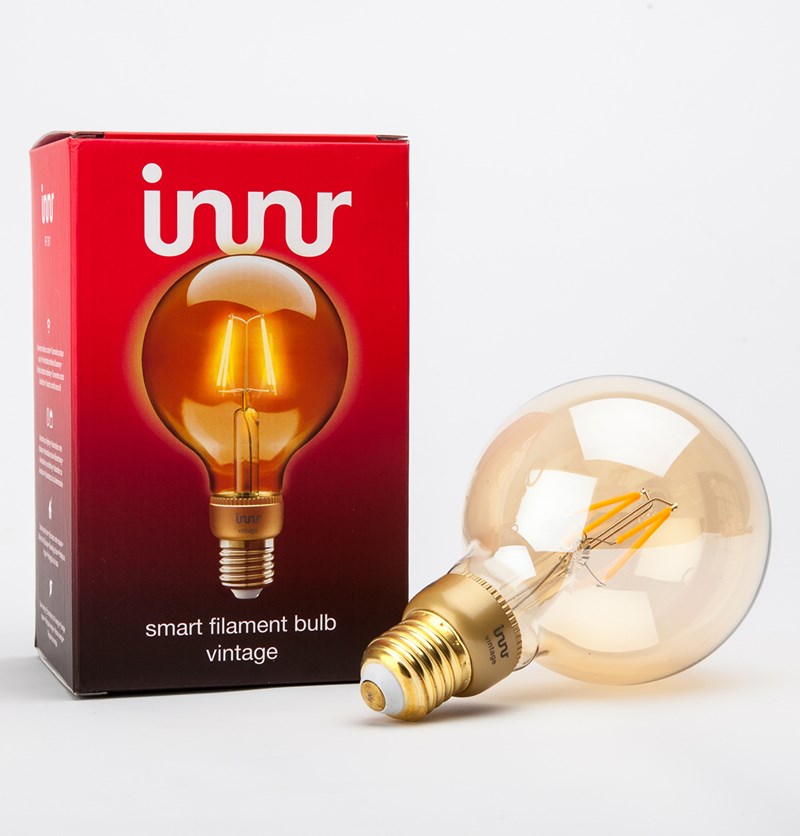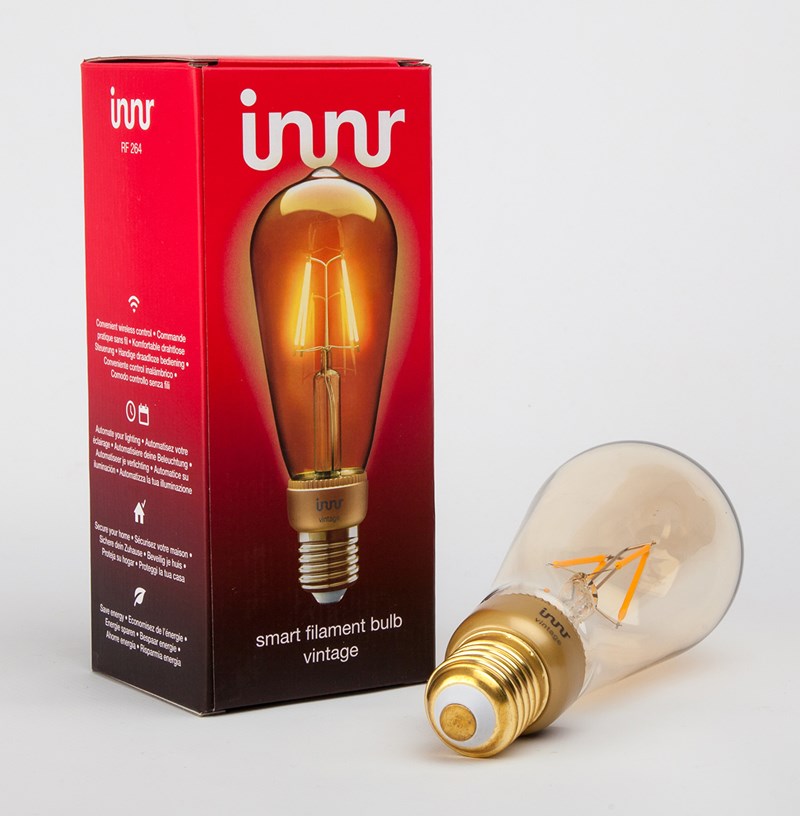 Specifications RF-261:
| | | |
| --- | --- | --- |
| Color temp |   | 2200K |
| CRI |   | > 80 |
| Lumen |   | 350lm |
| Light angle |   | 320° |
| Life expectancy |   | 15.000 uur |
| Switching time (on) |   | <0,5 sec |
| Dimming range |   | 5% t/m 100% |
| Wattage |   | 4.5W |
| Fitting |   | E27 |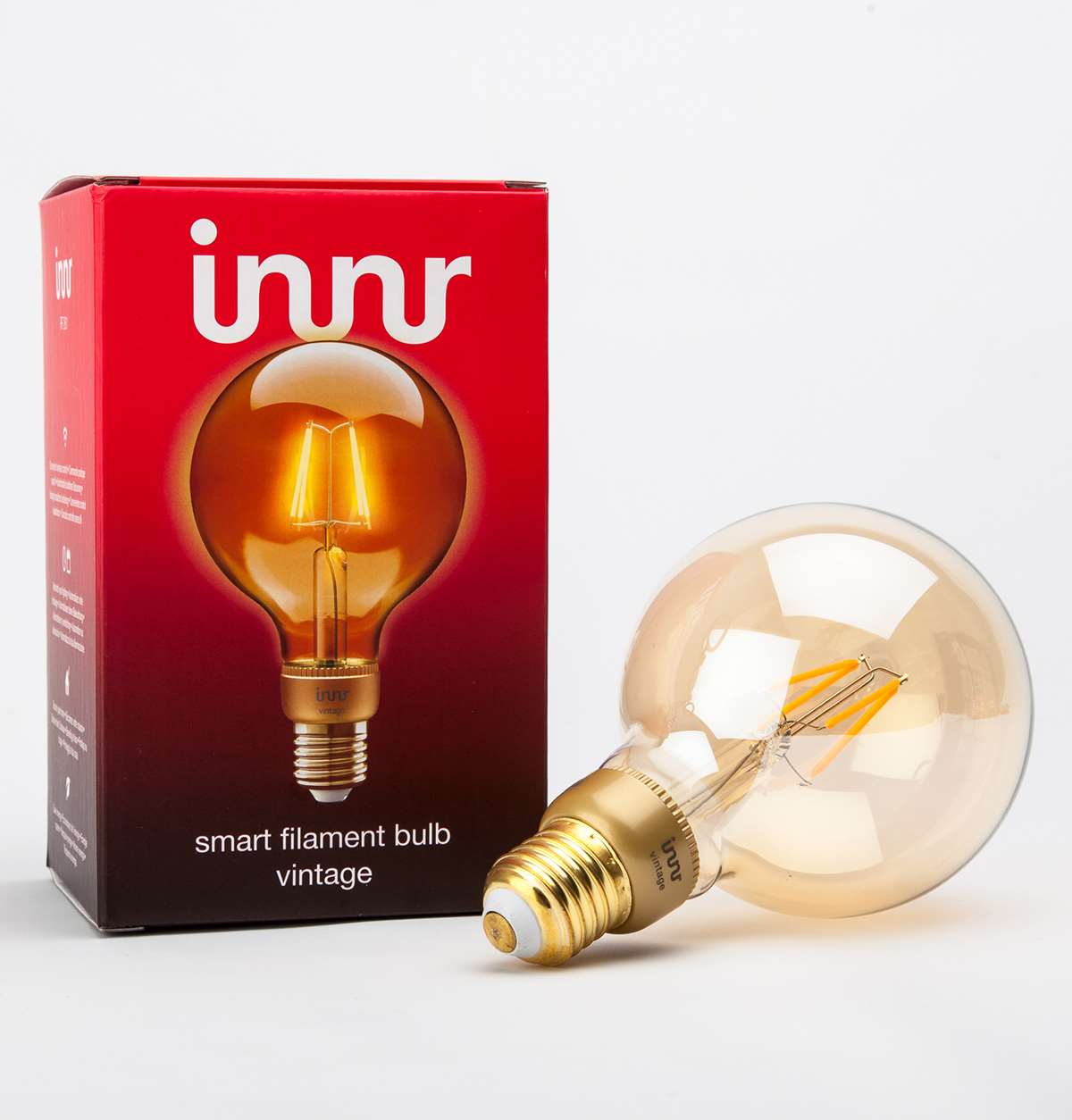 Specifications RF-264:
| | | |
| --- | --- | --- |
| Color temp |   | 2200K |
| CRI |   | > 80 |
| Lumen |   | 350lm |
| Light angle |   | 320° |
| Life expectancy |   | 15.000 uur |
| Switching time (on) |   | <0,5 sec |
| Dimming range |   | 5% t/m 100% |
| Wattage |   | 4.5W |
| Fitting |   | E27 |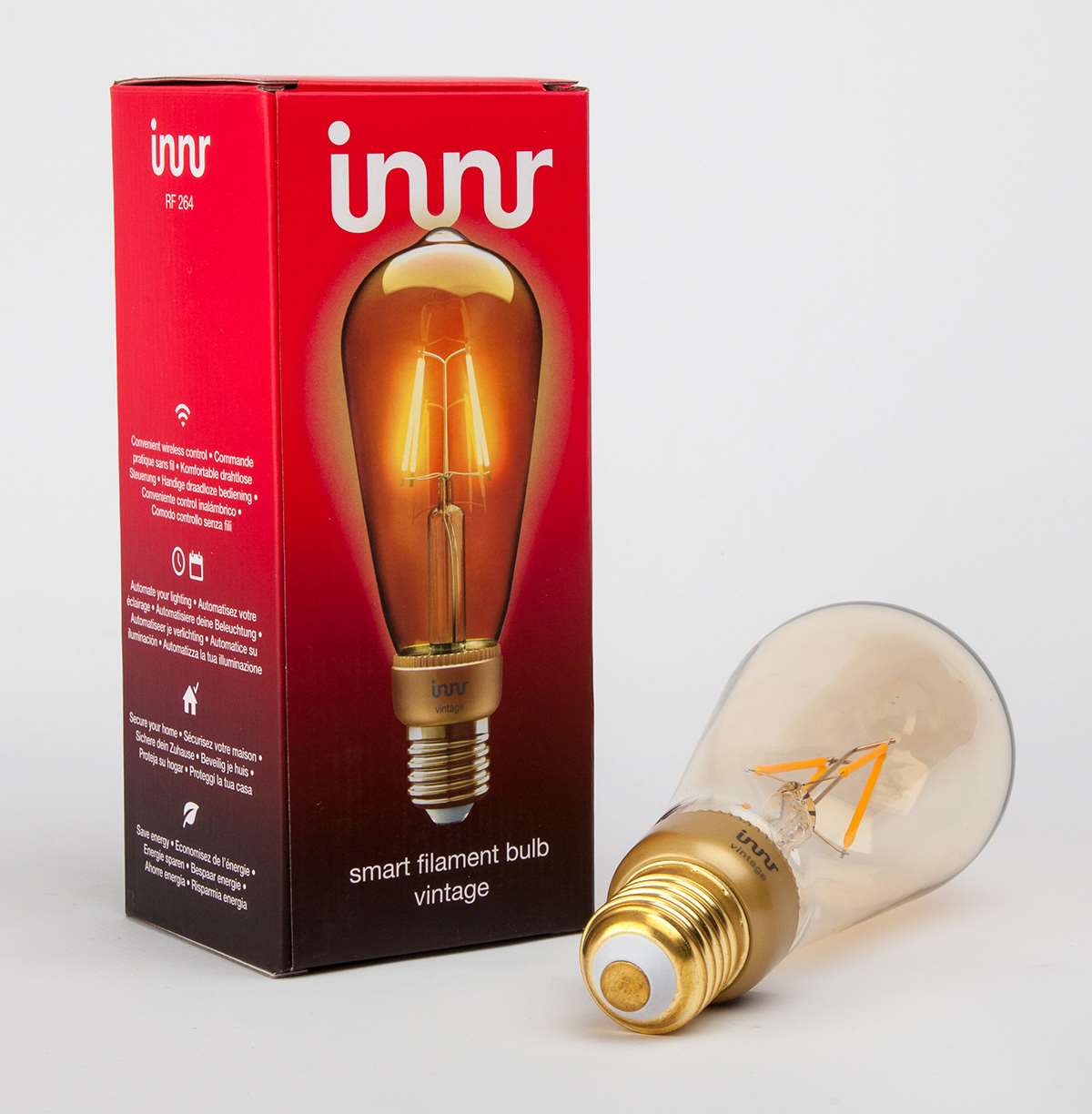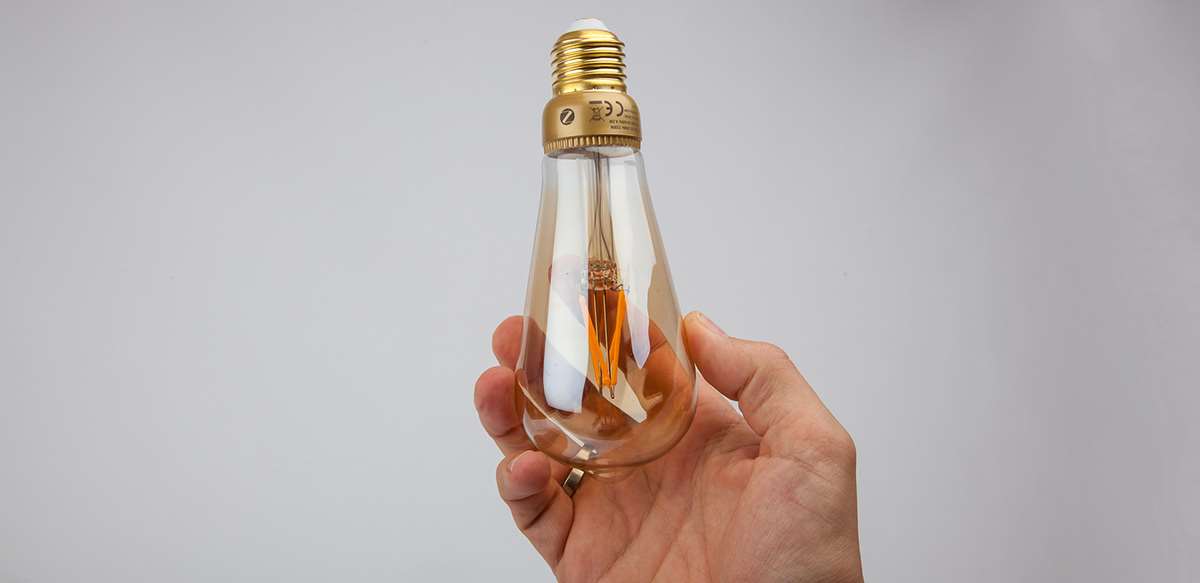 We will install these INNR lamps on the following controllers:
- INNR Gateway
- Homey by Athom
- Zipato Zipatile
- Vera Plus
- Philips HUE
- Ikea Hub
Table of content
This product is for sale for:
---
INNR Smart Filament Bulb Vintage (RF-261/RF-264)
€ 24
Buy
---