Bold smart Cylinder SX
Review of a smart lock produced by a Dutch manufacturer.
More and more smart locks are coming onto the market. Today we make a review of the Bold. This product is made by a Dutch company and has been on the market for a while. So it's time to put it to the test.
With a smart lock you can open your door remotely, via your home automation system or via an APP. You no longer need your key. This is also the case with the Bold Smart Cylinder SX.
The best known smart locks are those of Nuki and Danalock which work with Zigbee and Z-Wave. These locks have a built-in motor to unlock and open the door. The Bold doesn't have this, so he won't open the door for you. He just unlocks it. So going through with the groceries in your hands is unfortunately not possible.
The Bold works via the Bluetooth of your smartphone. To disrupt the door, start the APP and press the button. There is also another way to open the door. More on this later.
Unfortunately, it is not possible to connect the Bold to a home automation system. Bold has indicated that he will come with a gateway. With this gateway you can unlock your lock directly via the internet. And possibly also link with your home automation system.
Well secured?
When it comes to smart lock, the first question asked is: what about security? If we look at the construction of the lock, it has received 3 stars from the SKG quality mark. This is the highest attainable class. This means that there is a 5 minute burglary delay. This doesn't seem like much, but every extra minute is too much for a burglar. He wants to get in as soon as possible. With this lock it is also possible to apply for the Police Hallmark for Safe Living.
In addition, you can combine the lock with an anti-core pull fitting, so the lock cannot be broken in half. Drilling out the lock is also difficult because it is equipped with an anti-drilling barrier.
As already said, the lock can also be operated with a phone and this is via Bluetooth. There is remarkably little talked about on Bold's website. So I can not find how the security of this is arranged.
Open automatically?
While writing this article, there is no way to automatically open the lock when you get close. Bold indicates that he is working on this.
What do you get:
- 1x BOLD Smart Euro profile knob cylinder
- 1x Battery
- 3x Length Adapters Outside
- Installation Tools
Specifications:
| | |
| --- | --- |
| Product: | Euro Profile Knob Cylinder, Single Sided Checked |
| Color: | Silver |
| Material Knobs: | Zinc Alloy, Matte Satin Chrome Finish |
| Cylinder Body: | Brass, Nickel Finish |
| Weight: | 375 gr |
| Development: | The Netherlands |
| Assembly: | The Netherlands |
| Battery | CR123A, 1550mAh |
| Battery life | 2 Years and/or 20,000 Activations |
| Inner button operating temperature: | +10°C to +40°C |
| Outside knob: | -20°C to +80°C |
| IP rating: | Outside knob, Cylinder body: IP54 |
|   | Inner knob: IP4X |
| Approvals and Certificates | SKG*** |
|   | EN15684 |
| Category use: | Grade 1 (Grades 0-1) |
| Durability: | Grade 6 (4-6), 100.000 cycli |
| Digital Security: | Grade F (A-F) |
| Burglary Resistance: | Grade 2 (0-2) |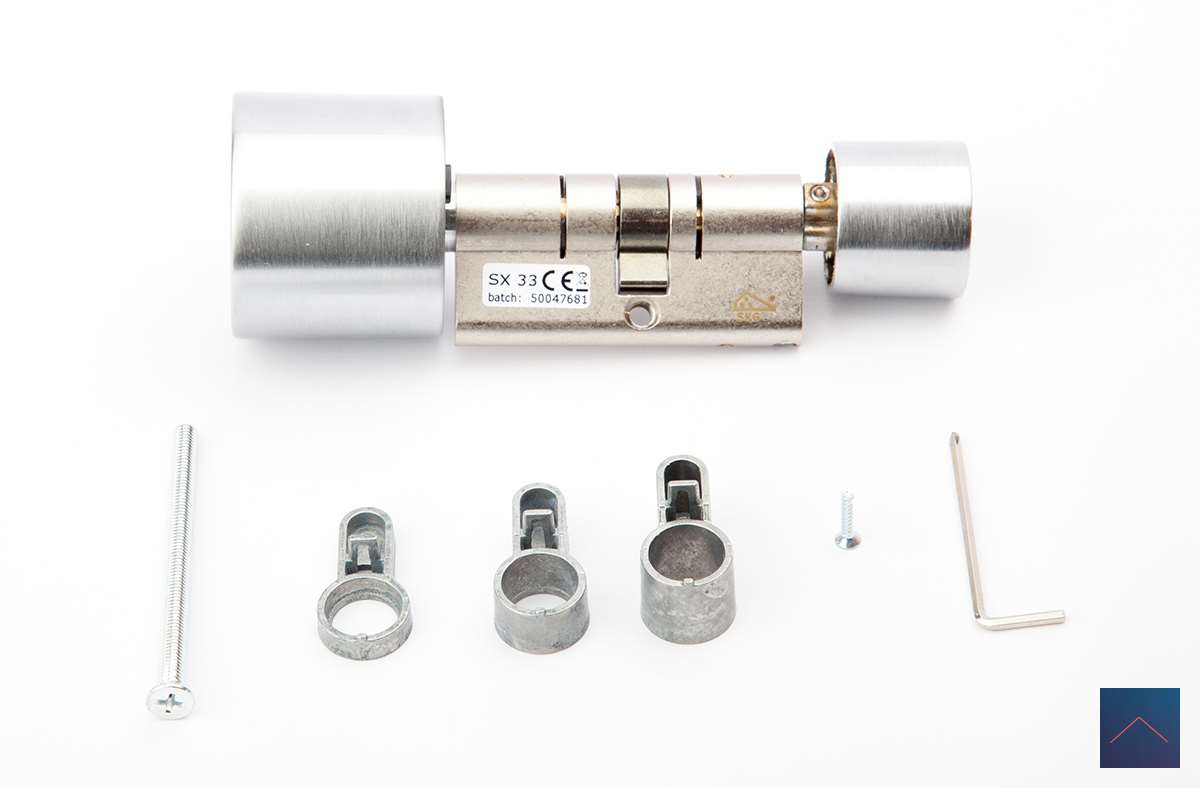 Table of content
This product is for sale for:
---
Bold smart Cylinder SX
€ 199
Buy
---
;
;