iBlinds
With this product you can make your blinds smart. We're going to take a closer look at him.
Your dream is of course to make everything in your home smart. You often start by replacing your lighting with smart lamps, you connect devices to an intermediate plug. After this, you continue with door sensors and motion sensors to further automate things. After a while you have made just about everything smart and your curtains/blinds are left to tackle. The iBlinds product fits in nicely with this. With this you can make your blinds smart.
Imagine before you wake up in the morning and your blinds open on their own and close again at night before you go to sleep. This is all possible with the iBlinds and of course a Smart Home hub. You can also imagine a scenario where when you go to watch a movie your blinds close automatically.

Z-Wave plus communication:
This product is controlled by the Z-Wave plus protocol. This allows it to communicate wirelessly with your Smart Home hub. You can raise or lower your blinds, or open them halfway. Of course, it can also be automated so that the blinds open automatically when you are awake.
The motor is powered by a battery that can be charged via the supplied USB cable and adapter. As an option, you can also buy a solar panel so that you never have to charge it again.
The whole is easy to install, but you have to take into account that you have a minimum width of 5.0 cm and a maximum width of 6.4 cm (suspension system). So you must have fairly wide blinds, in addition, there must be at least 15.3 cm between the "drums". This is say the space between the wires.
It is for sale for € 139.00 via this website. You can buy the solar panel for € 29.95.
Installation:
1)
Before we start connecting it to our controller, you need to install the motor in your blind. The first step is to charge the motor, well this is not that complicated because it is a matter of plugging in the adapter and connecting the USB cable. It is fully charged when the LED lights up green.
2)
Now we remove the blind and remove the existing drive system and pull out the drive rod.
3)
The next step is to connect the charging cable. This includes an adapter with cable and a clip to attach it to your rail. We will put the cable directly into the motor.
4)
Now we need to see if the current drive rod connects to the motor. If this is not the case, you have to disassemble the motor with the supplied key and replace the shaft (there are 2 different variants included).
5)
If everything fits, we install the motor in the blind and make sure everything is neatly aligned. Now we press the drive rod into the motor to ensure that it can be controlled directly.
6)
Now we need to get it added to our controller. We're going to test some different controllers.
What do you get:
- Engine
- Battery
- USB cable
- Instruction manual
- Tieraps
- Booster
- Double-sided tape
- Key
- Adapter/extender for charger
- SDK code sticker
Specifications:
Technology

:
Z-Wave Plus - 700 Series

Current

:
Lithium Cell 3.7V, USB DC 5V, 2A

Max (without USB power adapter)

Dimensions

:
121 x 57 x 38mm

Working temperature

:
0C tot 50C
Frequency:
EU – 868MHz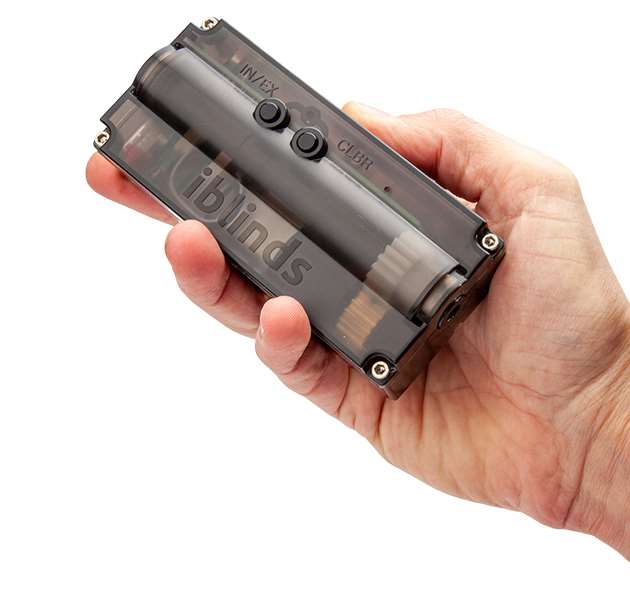 We will install these iBlinds on the following controllers:
- Homey by Athom
- Fibaro Home Center 2
- Fibaro Home Center 3
- Domoticz (in collaboration with the Aeon Labs USB Z-Wave stick)
- Home Assistant (in collaboration with the Aeon Labs USB Z-Wave stick)
This product is for sale for:
---
€ 139

Buy
---
;
;