Ikea TRÅDFRI
Ikea introduced a new line of smart products the Ikea TRÅDFRI last year. This product has since grown up so it's time for a review.

TRÅDFRI is the Swedish collective name for smart products (lighting) that are sold by Ikea. This store chain has had normal lighting in their range for years. These were just not smart, so you could control them remotely. Ikea has realized that smart products such as the Philips HUE sell well. This has changed since last year, people have gradually brought some products onto the market. There are wireless lamps (E27, E14, GU10), light panels, remote controls and motion sensors. Lighting can be controlled individually or via a hub, more about this later. This line of products are a direct competitor of Philips HUE and INNR lighting. Ikea products stand out because of their low price. There is already a smart lamp available for € 9.99 while this costs € 20.00 for the competitor.
The TRÅDFRI products work via the wireless communication protocol Zigbee Lightlink. You can also find this in products such as the INNR, Philips HUE and the Xiaomi MiHome. Operation is through the included remote control or via a motion sensor. If you want to control the lights via the APP, you need the HUB. This HUB is then the central point where everything can be adjusted. This way you can create different timers. We will show these options later in this article.
in this review we deal with the connection hub and dim set. There are many more products such as a clear lamp, a motion detector and LED light panels.

Connection hub
With the connection hub you can control all your lamps and set different time switches. You connect the hub to your router with a UTP cable. So keep in mind that the hub must be close to the lights. The maximum range is only 10 meters (without walls between them).

What do you get:
- Hub
- UTP cable
- USB cable
- Charger
- Instruction manual

Dimset (color and white spectrum gray / white)
The set comes with 1 lamp and a remote control has 5 buttons. The lamp is an LED lamp which can be dimmed. You can of course also switch it on and off. You can also determine the color. With the remote control, the middle button is to turn it off and on. The left and right to change the color and the top and bottom to change the dim level. The whole feels a bit plastic. There is a holder on the back to attach it to the wall. This is magnetic so you can easily take it off.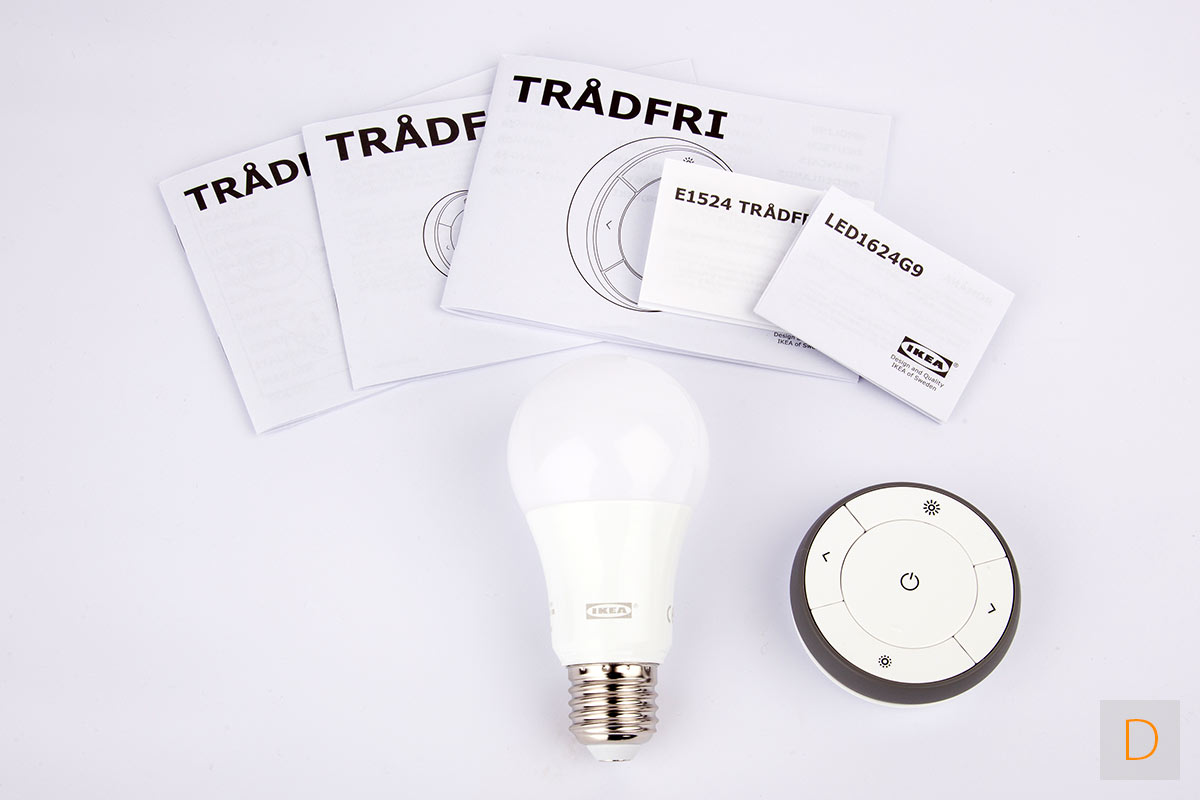 What do you get:
- Lamp (600 lumen)
- Remote control
- Button cell battery (lasts 2 years according to Ikea)
- Instruction manual
Table of content
This product is for sale for:
---
TRÅDFRI Verbindingshub
€ 33
Buy
---
TRÅDFRI Led-lamp E27 600 lumen
€ 25
Buy
---
;
;