Lidl Smart Lighting Start KIT with colour Bulbs E27 - LivarnoLux/SliverCrest
A review of this super cheap smart home system from Lidl.
After Ikea, Hema and Action, Lidl probably thought there was a market for Smart Home products. Now this is not so strange for Lidl since they often sell electronic products. They often do under their own brand Silvercrest/Livarno. Also this Starter Kit which is a combination of these brands.
The products distinguish themselves because they are cheap and well put together (according to Lidl). We are going to test this set and compare it with the competition.

Zigbee the way to go
Lidl's Smart Home system works with the Zigbee 3.0 protocol. This protocol provides wireless communication between the devices. So no use is made of the WiFi protocol. The advantage of this is that it is a separate network and therefore cannot get confused with your other devices.
In principle, Zigbee is an open standard that several manufacturers use. This is how Philips and Ikea also work with this standard. It should therefore be possible to use lamps from this manufacturer as well.
Central Hub
The supplied hub from Slivercrest takes care of the control of the whole. Basically, if you send a command via your smart phone, the Hub will forward this command to the lamp. The lamp then sends back a signal that the command was successful and you will then receive a status update on the phone.
You can't do anything without this hub. Connecting your (internal) network is done by connecting the supplied UTP cable to your router.

Let there be light
This set includes 3 RGB LED lamps which can conjure up no less than 16 million colors. These lamps have a power of 9W which is equivalent to 75W incandescent lamp. So quite light. Fortunately, these lamps can be dimmed so that you have control over the amount of light.
According to the box, the lamps have a life expectancy of 300,000 hours. The lamps are 116 mm high, which makes them a lot bigger than a light bulb. But just as big as a Philips HUE lamp. It is striking that the lamps are super light, it seems as if you have nothing in your hands.
This set is equipped with a remote control with which you can turn your lights on/off remotely. This remote control will not hit you that quickly because the buttons are mega large. It reminds me a bit of an elderly telephone. It is equipped with 4 buttons; on/off and 2 dimming buttons (brighter, less bright).
What do you get:
- Gateway
- Gateway manual
- 3x RGBW lamps
- Manual lamps/remote control
- USB power supply
- USB cable
- CR-2450 battery for remote control
- UTP cable
- Sticker dimensions for hanging gateway
- Dimensions for hanging remote control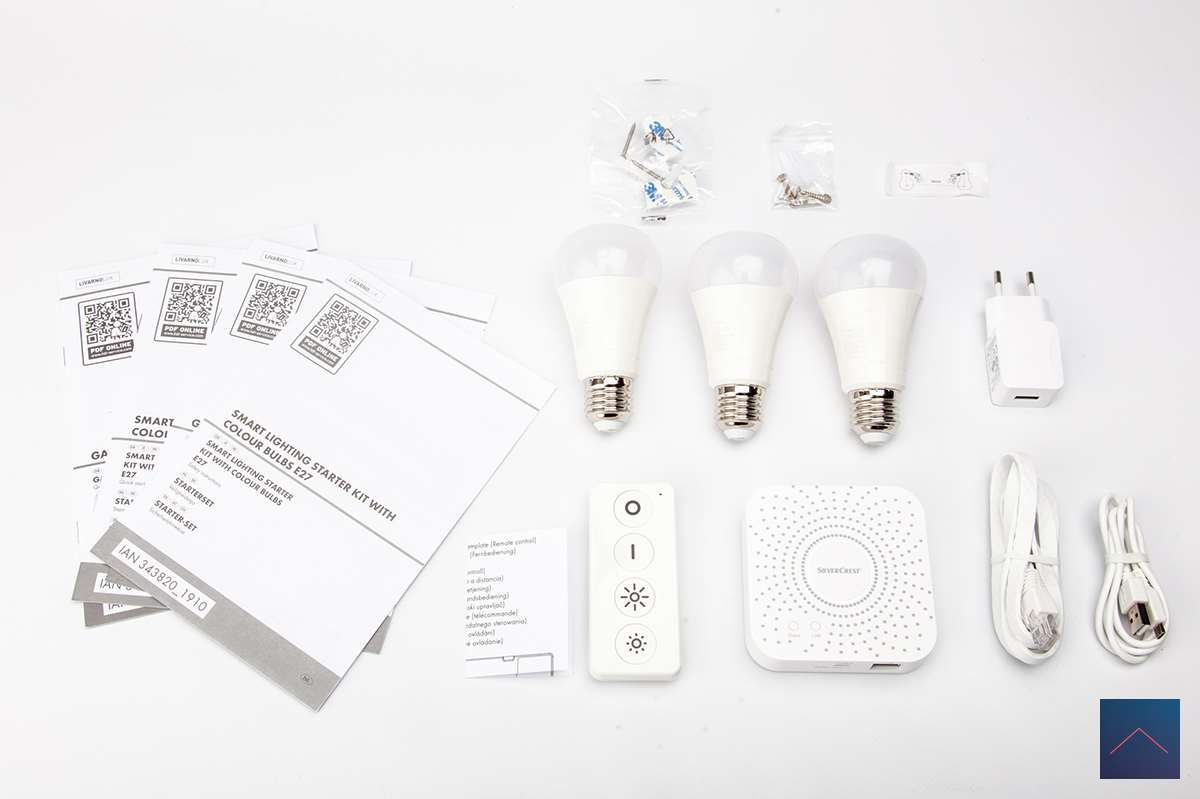 Specifications:
Gateway:
| | | |
| --- | --- | --- |
| Netwerk: |   | UTP |
| Protocol: |   | Zigbee 3.0 |
| Afmetingen: |   | 8,9 x 8,9 x 2,35 cm  |
| APP: |   | iOS 9.0, Android™ 5.0 Lollipop of later |
|   |   |   |
Lampen:
Luminous flux

:
 
3x 806 lm

Color temperature (light color

):
 
2200 K - 6500 K
Ra (

color rendering index

):
 
95
LED-life:
 
30.000 uur
Fitting:
 
E27

Dimensions

:
 
60 x 115 mm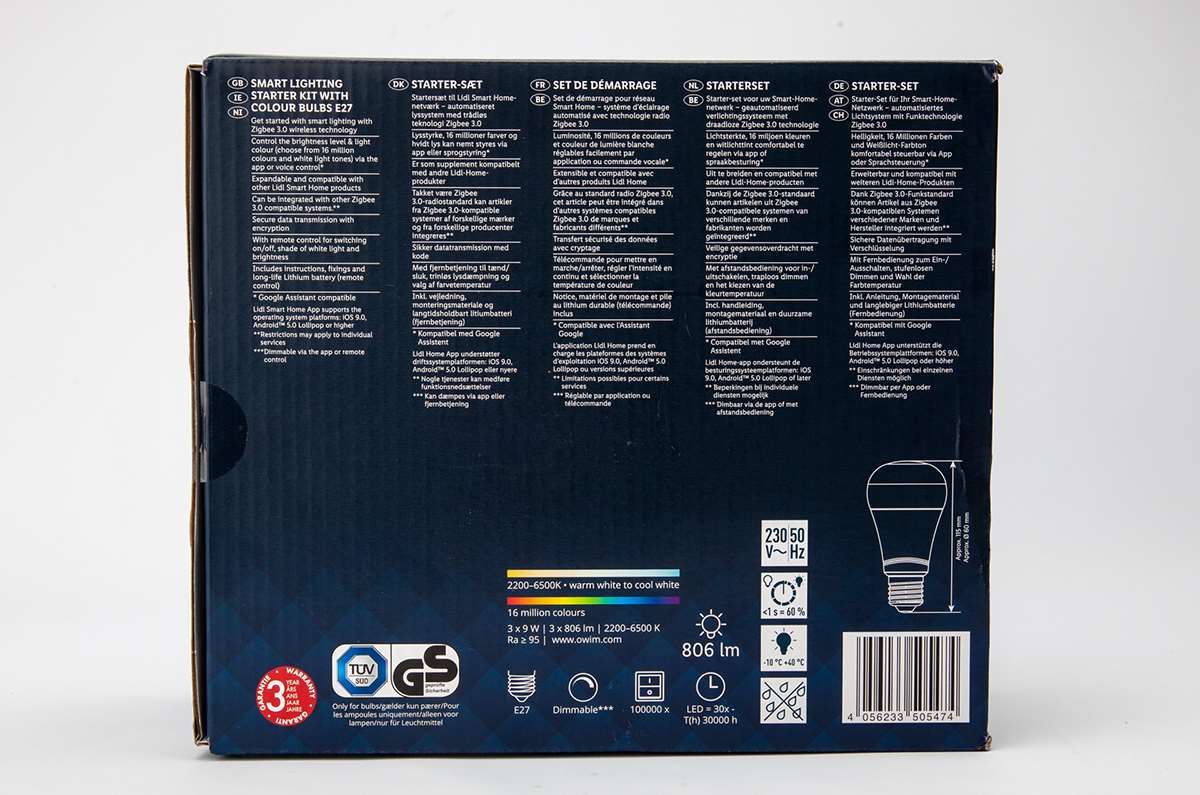 Installation:
We will now proceed with the installation. Read here how this works.