Thinka
Review of the Thinka Smart Home hub that works with Apple Home Kit.
It is good to see that more and more new players, supporting the Z-wave protocol, are entering the Smart Home market. More choice is of course always good for the consumer. What's even better is that these are increasingly Dutch companies. It's cool to see that these companies can also join the big boys. Think, for example, of Homey, which is now sold far outside the Netherlands.
The Smart Home market is also growing, so it is not surprising that several players are joining this. According to Multiscope, Dutch consumers spend more than 2.5 billion euros on Smart Home products. So quite a bit of potential.
Last week we received a product from Thinka. Now this manufacturer may not tell you much. She mainly focused on the KNX market. KNX is a wired Smart Home system that is mainly used in larger (more expensive) houses.
This protocol is less susceptible to interference than the wireless variant. But less affordable and therefore less accessible to the average consumer. KNX is also less easy to install than a Philips HUE system, for example.

In order to serve this market, Thinka has decided to make their system suitable for the wireless communication protocol Z-Wave. This protocol is used by several manufacturers such as Fibaro, Vera and Athom (Homey). An advantage of this protocol is that it is less susceptible to interference because it uses its own network frequency. So it does not interfere with, for example, your WiFi connection.
Z-Wave devices must have a certification, this ensures that the devices can communicate well with each other. Although in practice this is not always the case. We will of course also test this with the Thinka by installing some different brands.
There are very many different devices available for the Z-Wave protocol. You can't think of it that crazy or there is a device for it. Think, for example, of sirens, door sensors, motion detectors, keyfobs, etc. So you can make your home smart.
The Thinka consists of a central hub that controls everything. This hub is connected to your local network via a UTP cable. All communication goes through the hub. So when I turn on a lamp it will send a signal through your phone, your network to the Hub and then wirelessly to the lamp to turn it on.
Now you're probably thinking: but what if the hub doesn't work? With Z-Wave you have enough solutions that can also work outside the hub. For example, there are built-in switches that can control a lamp directly. So you won't be completely in the dark.
The Thinka is unique in that it works together with Home Kit. Home Kit is a Smart Home protocol/system from Apple. This is standard included with Apple products from iOS 10 version. So there is a good chance that this is installed on your iPhone.
The nice thing about this link is that you can then use all the functionalities that Home Kit offers. Think for example of:
- Using SiRi for voice control
- Scene/smart rules to automate things
- The system works whether you are at home or away. You can imagine that this is useful to, for example, turn off your heating and lamps when you are not at home
- Another advantage is that there are many Works with Apple HomeKit products available. You can link all of these together. Examples of products are: switches, lamps, locks, doorbells, fans, sprinklers, etc etc.
You can recognize these products by the "Works with Apple HomeKit" logo.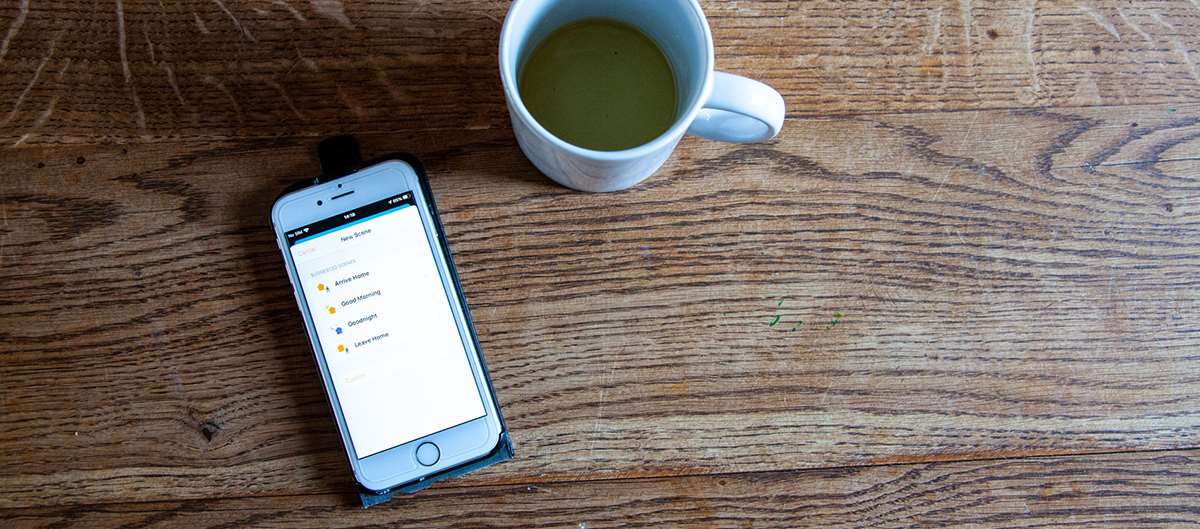 Your data is safe
An important advantage of the Z-Wave protocol is that all your data remains local and that it is extra secured by the S2 security of Z-Wave. The Thinka box even states that the data does not leave your home. This indeed applies to all Z-Wave devices. I'm curious if this also applies to the Thinka itself. We will of course look at this in our review.
What do you get:
- Hub
- Wall bracket
- Adapter
- 2x plugs (UK/EU)
- Quick Start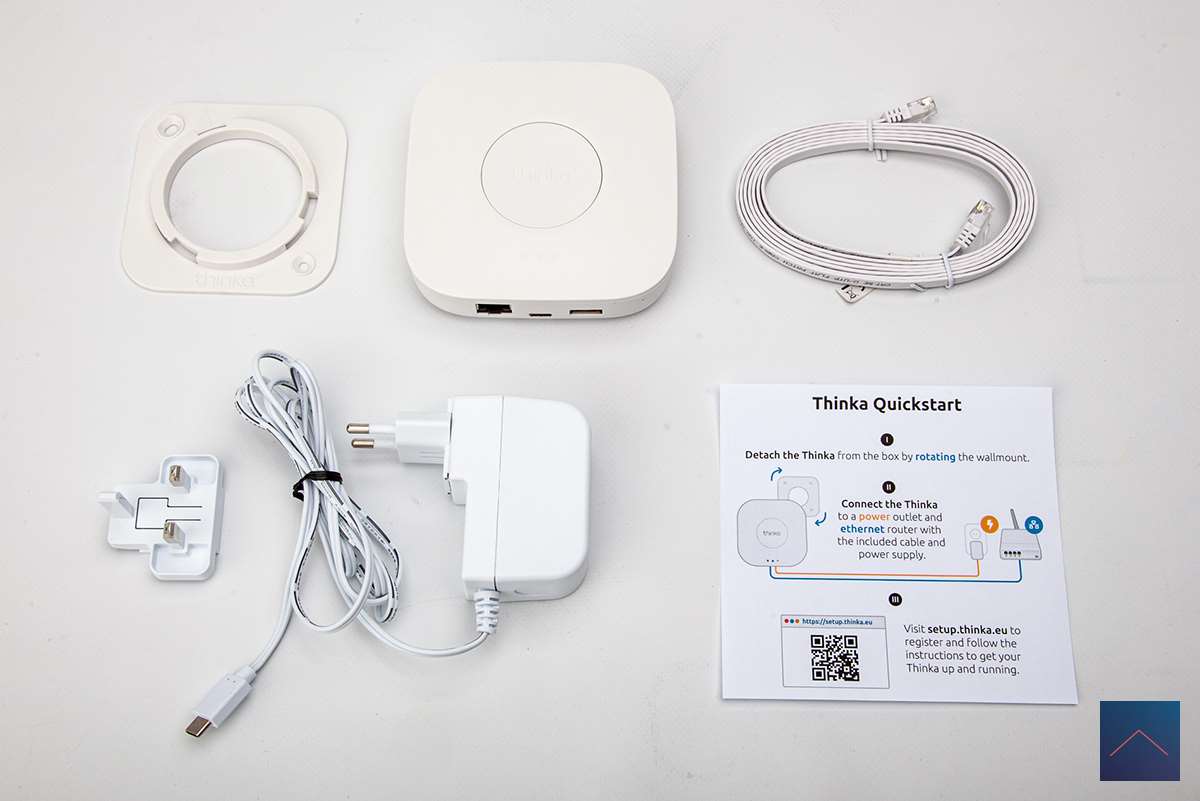 Specifications:
Hardware:
Processor: 1.5GHz Quad-Core Cortex-A72 ARM 64-bit
Memory: 8GB flash memory storage - 1GB DDR4 ram
Connections: USB-C port for power - WAN Port 10/100 Ethernet - USB 2.0 Port 2.0
Wireless:
Protocol: Z-Wave Plus 700 series
Frequency: Europe 868MHz
Range: 400 meters
Current:
In: AC 100-240VAC, 50-60Hz
Out: DC 5V/3A
Certificates:
Z-Wave Plus
Apple HomeKit
Google Home
Amazon Alexa
IP50
CE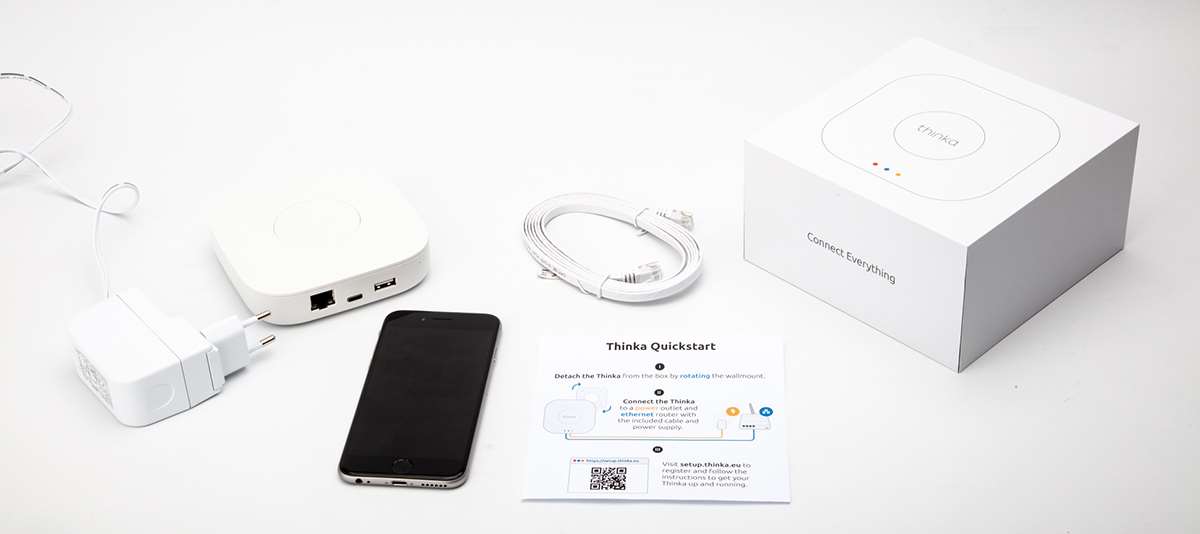 In the next chapter we will install the Thinka.
Table of content
This product is for sale for:
---
€ 429
Buy
---
;
;