Yeelight MJDP02YL 10W RGB E27 220 - 240V LED Smart Bulb
On this blog we have already covered several smart LED lamps, but of course you can always add one more. This time we'll cover the Yeelight LED Bulb.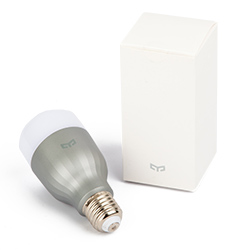 You can make lamps smarter in various ways. For example, there are the built-in switches that you hide behind your existing wall switch. With this variant you always have to connect wires. Which can be a barrier for some people. In this review we will look at the variant in which the existing lamp is replaced by a smart lamp. Everyone should be able to do this.

This lamp works via the WiFi protocol, so no special controller is required to operate it. A simple WiFi network is sufficient. This is present in most households. The following WiFi standards are supported: Wi-Fi IEEE 802.11b / g / n 2.4GHz. This control is done via the Miija APP. Later in the article I'll show some screens of this. We will first go deeper into the possibilities of the lamp.

The power of this lamp is 10w which is equal to 75w of an old-fashioned light bulb. So at full power it gives a lot of light. It is dimmable in nice, equal steps and therefore does not flicker. I must honestly say that the last steps are a bit less smooth. The lamp is 120mm high and 55mm wide, which makes it slightly higher than a normal light bulb. It has a silver finish on the bottom and a matte plastic cap on the top. Because this shade is quite small, you do not expect a good spread of the light, but this is the case.

According to Yeelight you can make a whole palette of colors, but in practice I find this a bit disappointing. Actually all colors are quite bright.

Of course it has a normal large fitting (e27) and works on 220v. You can buy it for around € 18.00 through Aliexpress.

We will install this lamp on the following controllers/APPs:
- Yeelight APP
- Xiaomi MI home APP
- Homey by Athom
Table of content
This product is for sale for:
---
€ 16

Buy
---
;
;