SMPL mini display - The ultimate screen?
Your house creates a lot of data, with this SMPL you have a solution to show this.
There are various solutions on the market for displaying data from your Smart Home controller, such as temperature and device statuses. But in combination with the Homey, this is a somewhat more difficult story. You can buy a tablet and connect Home Assistant to it. It then communicates with the Homey to retrieve the values. This is quite a cumbersome way and requires additional hardware and configuration. Not for everyone.
You could also request the dashboard (web UI) of the Homey in a browser on your tablet. This works fine, but there are also some drawbacks. For example, the values are somewhat small and not very easy to configure.
Martin Rasmussen saw this problem and came up with a simple, elegant and compact solution. The SMPL mini display. He developed this product together with EKTOS and TECHTO. They developed the electronics. Leendert de Kok (Koktail) helped to make the link with the Homey. The Homey needs an APP to work. Leendert de Kok also made the APPs for Beacon, Xiaomi mi flora and Sureflap. So he knows what he is doing.
Another interesting thing to mention is that Martin and Ektos work from Denmark and Ukraine.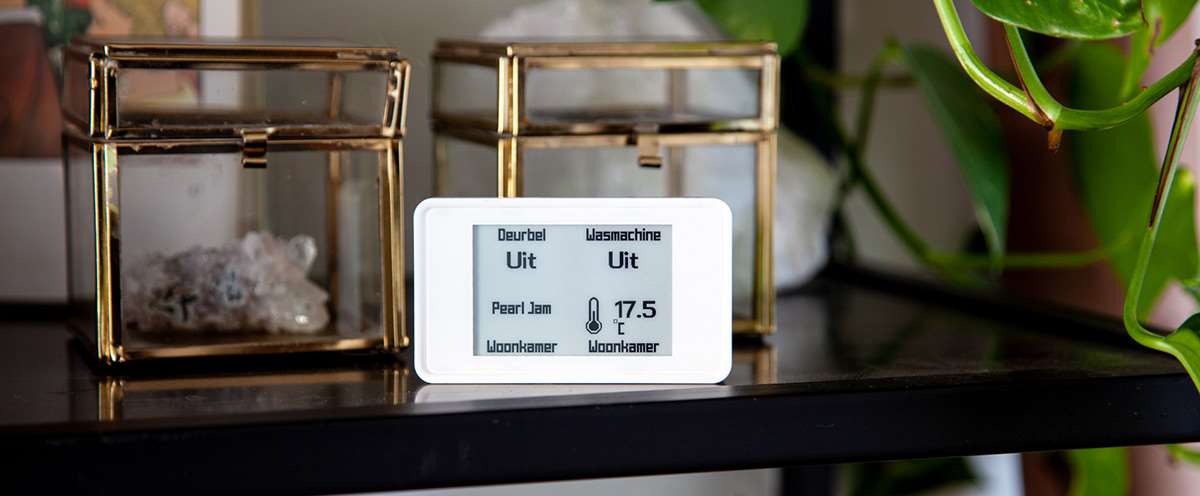 No Wires:
Of course we don't want a screen with a wire. This screen can communicate wirelessly via the Zigbee protocol. This allows you to connect it perfectly to the Homey. The power supply is through two CR2450 batteries. SMPL indicates that these should last between 1 and 3 months. Because it is completely wireless, you are not limited in where you install it. You can place it both horizontally and vertically.
Compact and small:
The SMPL hangs from a bracket and is 86mm x 50mm and only 14mm thick. It is made of white plastic and feels sturdy.
Easy to read display:
The screen has a resolution of 264x176 pixels and works with an e-ink screen. This makes it easy to read in the sun and also in the evening. Another advantage is that it consumes little energy.
What can you show on this screen?
Relief:
On/off status, dim value, color and saturation
Security:
Alarm, open/close, movement, lock
Heating:
Target temperature, current temperature and mode
Weather:
Temperature, wind, rain, lux value, UV value and humidity
Climate:
Temperature, humidity, co2, tvoc, ppm, lux value, pressure and noise
Energy:
Power and costs
AV:
Playback, volume, channel, album and track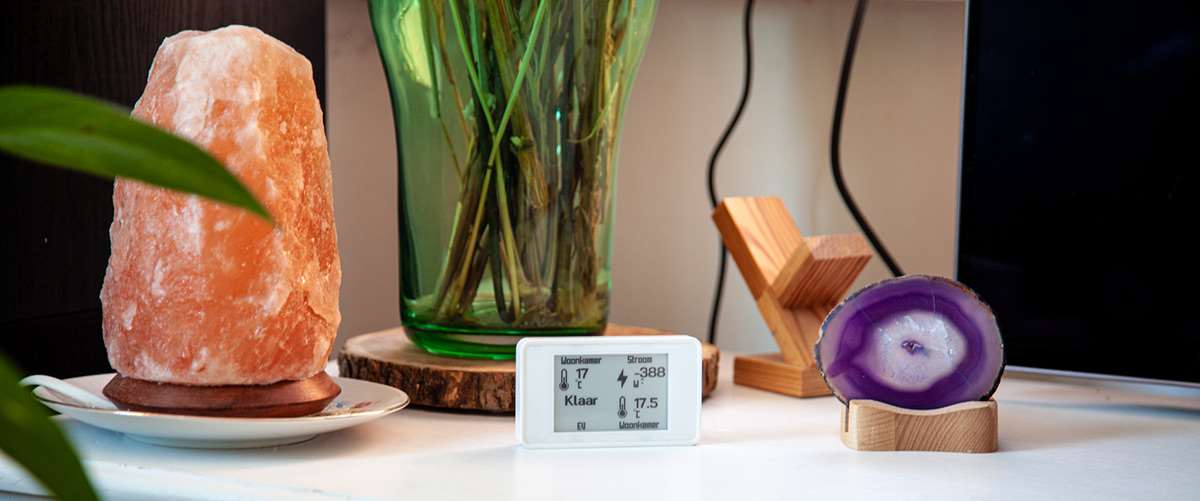 To get all this working you need a Homey. With the Homey you can easily control your smart devices (more than 50,000) in your home. For example, with the APP on your phone you can switch your lights on/off, regulate your heating, monitor your energy consumption and much more. The possibilities are endless. You can even operate your old infrared remote control via the Homey.
The Homey can also arrange things itself. This can be done with the flow editor. For example, you can automatically turn on a lamp when it gets dark or have it turn off automatically when you go to bed.
The Smart Home hub is for sale from €399.00 and you can read a review of this controller here.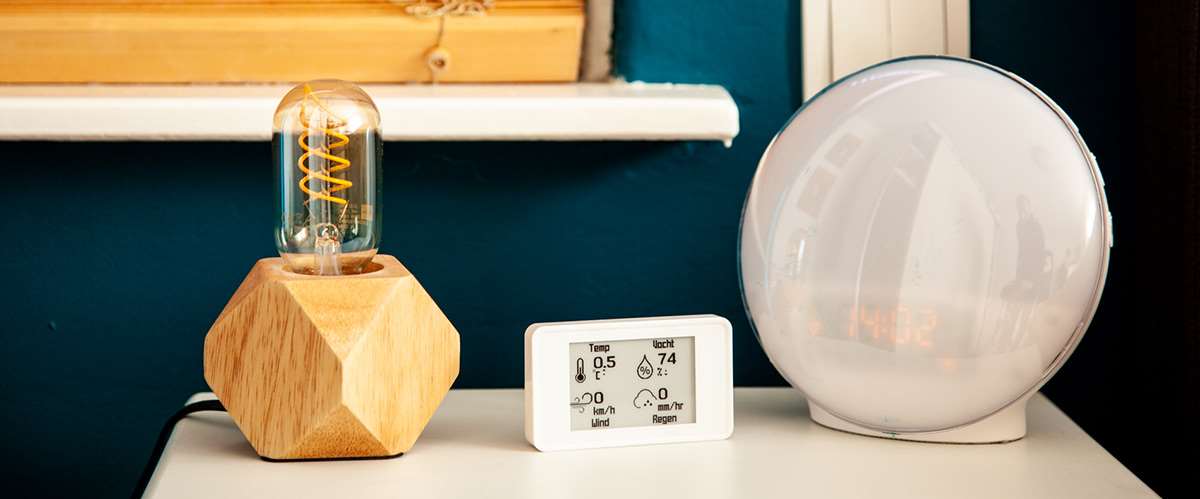 This screen can be purchased for €125.00 via this website. This sounds like a lot of money so we are going to see in this review if this is the money. Read more here for the installation or skip straight to the conclusion.
What do you get:
- Screen
- Suspension bracket (not in photo)
- 2x CR2450 battery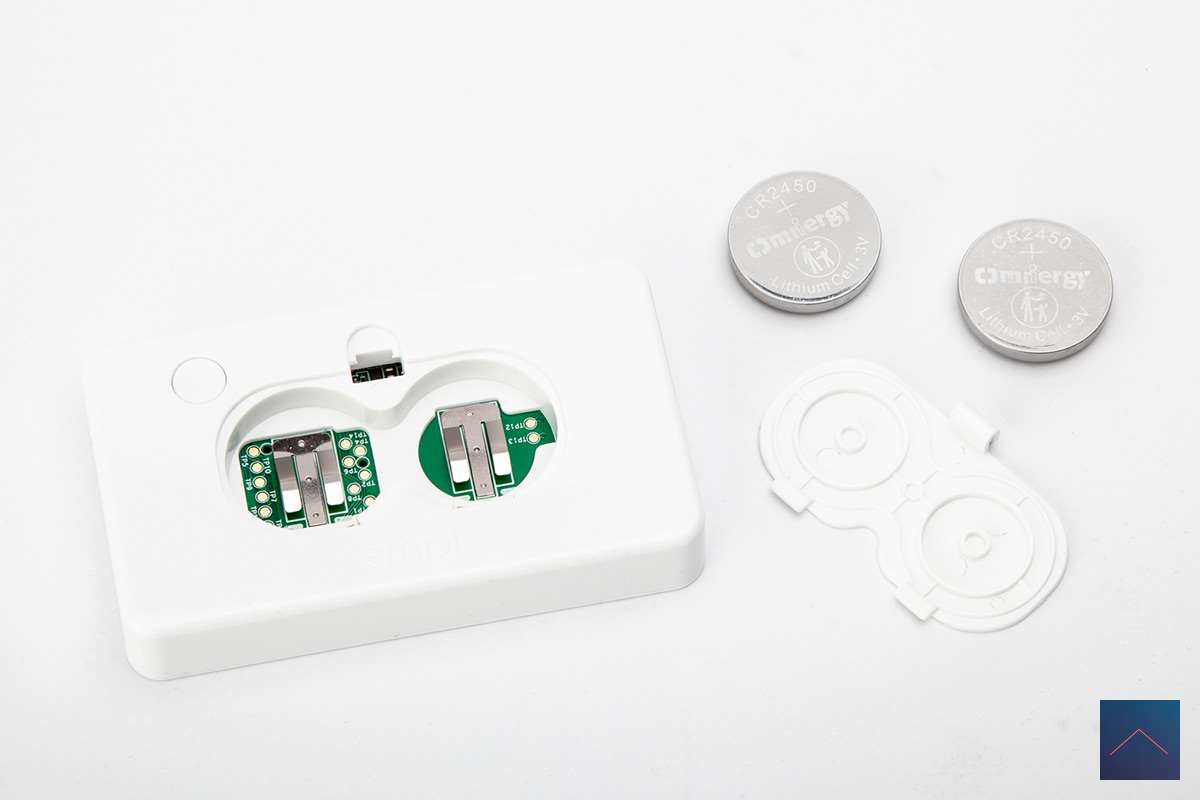 Specifications:
Display: E-ink, 264x176 pixels
Dimensions: 86mm x 50mm x14mm
Power supply: 2x CR2042
This product is for sale for:
---
SMPL mini display
€ 125
Buy
---
;
;
Related articles
More of: