HomeWizard P1 - How to save energy

Install on Homey:
As already indicated in the intro, HomeWizard has an API with which you can communicate. Via this API you can get the data in another system. We are going to make use of this by installing it on Athom's Homey. You can find an extensive review here.
The advantage of this link is that you can store data for longer without having a subscription. And you can of course link it to the rest of your system to make it smarter.
Installation:
The Homey works via APPS to get devices working, without an APP it gets very complicated. Fortunately, there is an APP for the HomeWizard P1. To actually add it, we go to the Homey Dashboard and click on the plus sign at the top. Now we search for HomeWizard and select the P1.
After this he immediately starts looking for the meter and he was found almost quite quickly. After a few steps we see it appear in my devices.
Flow options:
To create a flow you have the following options at your disposal.
Flow example:
We make a flow when the energy exceeds 5000 W, that we want to receive a notification.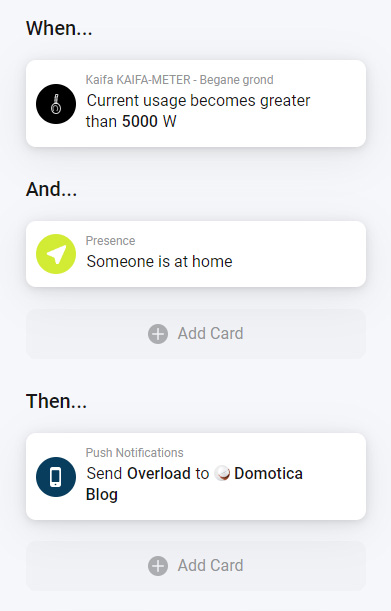 Table of content
This product is for sale for:
---
€ 30

Buy
---
;
;