Use Xiaomi Gateway in Domoticz
Xiaomi makes products for a favorable price. It would of course be nice if you can combine this with a good home automation controller. We will show in this guide how you can use these products in combination with Domoticz.

If you are not familiar with Xiaomi's products, first read this review of their gateway. Xiaomi makes products for a very favorable price. You can already buy a motion sensor for € 15. These products use the Zigbee protocol. Do you want to know more about this protocol? Then read this guide.
Currently it is not yet possible to use Xiaomi products directly in Domoticz. You can do this to link the gateway to Domoticz. All communication then goes to the sensor via this gateway.
Follow the steps below to connect the gateway:
1. Install the gateway as described in this review:
2. Open the Xiaomi APP
3. Go to the configuration menu (3 dots right above) and click on About.
4. Tab 3x quickly on the version number to open the developer tools. After this 2 extra menu items are added then click on xxx.
5. Then check the box "Wireless communication protocol"
6. Note the password and press OK
Screens installation: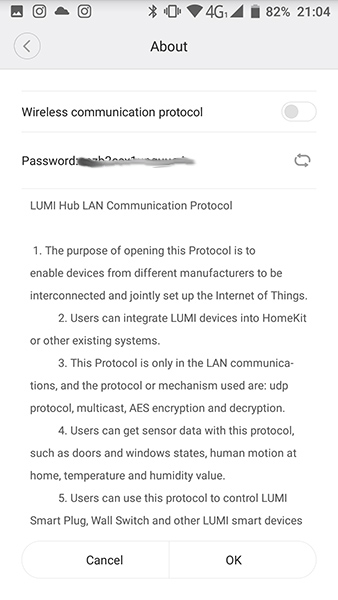 Now you have properly configured the gateway and you can start the Domoticz section. As mentioned earlier, you make a link with the gateway.
For this you have to arrange a number of things in Domoticz:
1. Login to the Domoticz dashboard
2. Go to the hardware section and select Xiaomi Gateway for the device type.
3. Enter the IP address of the gateway. You can find this in the Xiaomi APP at ...
4. Use as port number: 9898
5. Enter the password that you just noted
6. Press "Add"
Installation screen: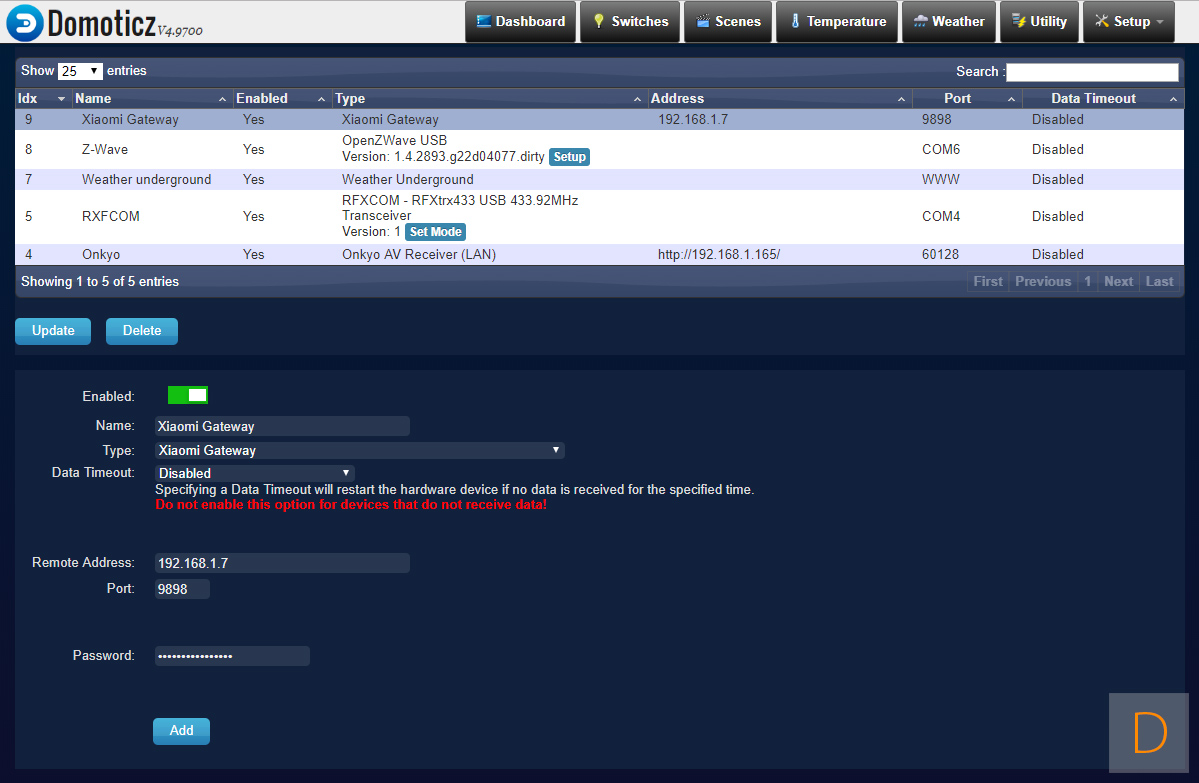 To use your devices you must first add them to the APP of the Gateway. They will then automatically appear in Domoticz, next to the devices.
The above solution works great to still be able to use Xiaomi products. It must be mentioned, of course, that it is not an ideal solution. Because you need an extra controller and the communication always has to go through this controller. You also have to accept the disadvantages of the Xiaomi Gateway (see conclusion review).