Fibaro Walli Dimmer
Review of the special built-in dimmer from Fibaro.
Fibaro has been making smart home products for many years. You may even say that they are the market leader in Z-Wave products. Of course, it is always difficult for a manufacturer to keep innovating. Fortunately, Fibaro always comes with new products. For example, they have launched a new line of products called: Walli.
No, this is not the robot from the well-known Disney movie, but a series of built-in switches that allow you to control your lamps and devices remotely.

He's there but he's not ...
These products replace your existing wall switch and make it smart. The smart part is behind the switch. You build it in your flush-mounted box. This allows you to operate the connected lamp wirelessly. It works with the Z-Wave plus protocol to establish this communication.
You don't need your controller to turn your lamp on or off. You can always keep doing this manually. Great, if he wasn't allowed to do it once.
As we are used to from Fibaro, the Walli is also neatly finished. The switch looks luxurious and feels sturdy. There are 4 LEDs around the button that light up when you switch it on, among other things. With this switch you can dim the connected lamp and of course switch it on or off.
In addition to all this, you have the option to start a scene, because there are pressure options. This way you can press it twice in a row, 3x in a row or hold it down to start something. This can for example be a scene to turn on all your lighting in your living room.

Control:
This Walli can of course be turned on and off. This is slightly different than with a normal switch. If you click at the top it will turn on and if you click at the bottom it will turn off again. You can dim the connected lamp by pressing and holding the button.
Let there be color:
An LED ring is built into the button of the Walli. This lights up when you switch it on and you can determine the color of it yourself and it is also possible to leave it off completely. The LED can also be used as a night light. Handy functionality.

The Walli series:
In addition to this dimmer, Fibaro has a whole range of products in the same line. There is a socket, switch (double) and roller switch.

What do you get:
- Fibaro Walli Dimmer
- Manual
- Frame and front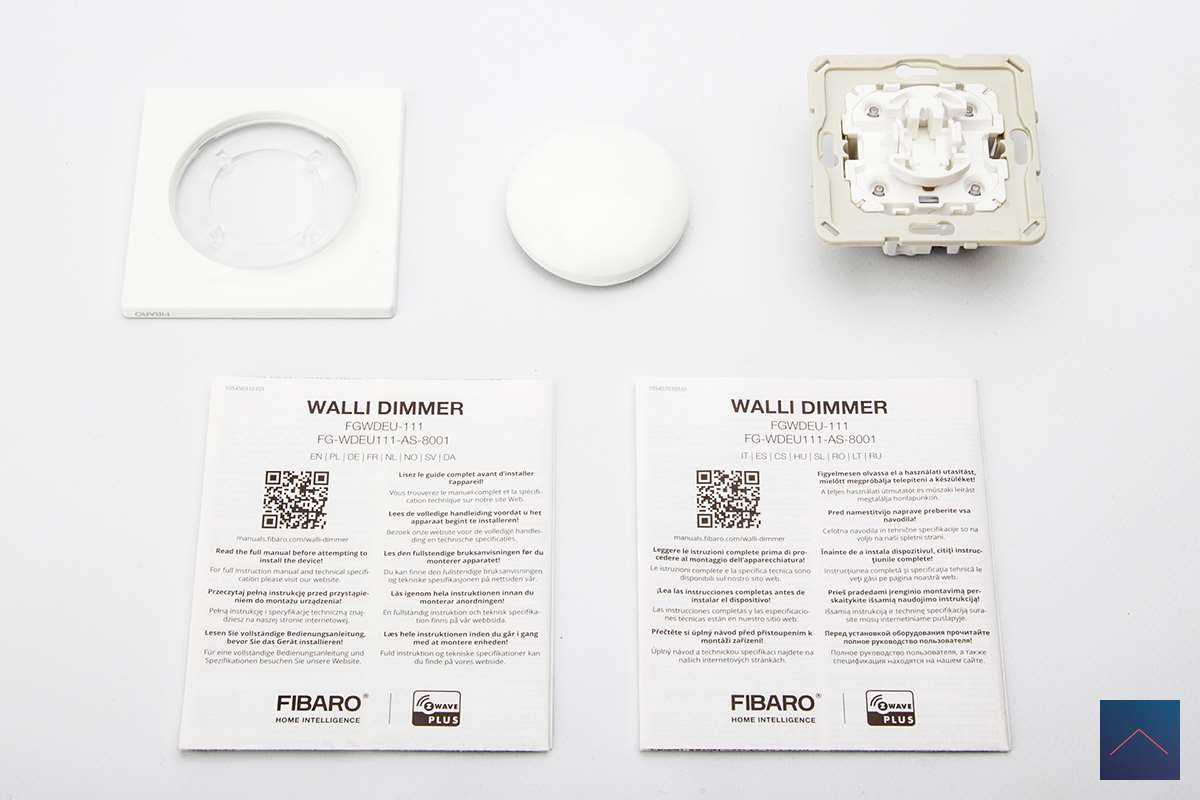 Specifications:
Power supply
110-230V~ 50/60 Hz
Compatible load types
 
 

Connectable power

0.22A-1.52A – resistive loads (incandescent en halogeen)
0.22A-1.3A – resistive-capacitive loads (fluorescent tube lamp, electronic transformer, LED)
0.22A-1.3A – resistive-inductive loads (ferromagnetic transformers)
0.022A-0.22A –

with

Bypass 2: fluorescent tube lamp or LED
Recommended circuit breaker
10A type B


Built-in box
Ø = 60mm, diep ≥ 40mm
Recommended installation wires
1.5-4.0mm2,
12-12.5mm strippen van isolatie
Operating temperature
0–35°C
Ambient humidity
10–95% RH
Radio protocol
Z-Wave (500 series chip)
Radio frequency band
868.0–868.6MHz; 869.7–870.0MHz
Max. transmit power
+6dBm

Range

up to 50m

outdoors


up to 40m indoors
(depending on environment)

Dimensions:




(HxWxD)

86 x 86 x 51 mm
C

ertification

RoHS 2011/65/EU
RED 2014/53/EU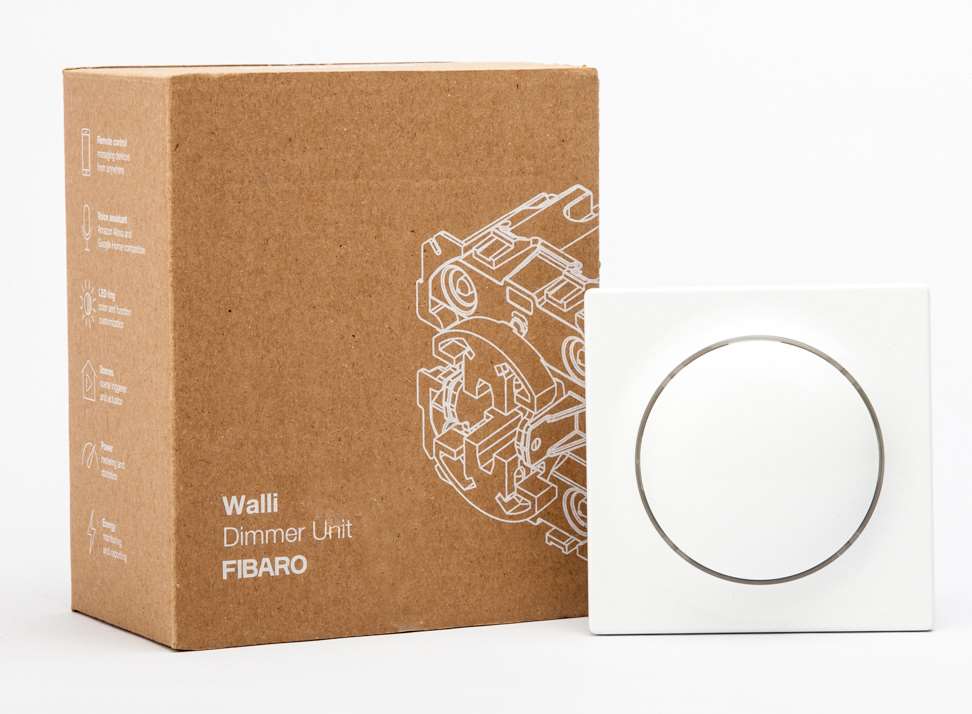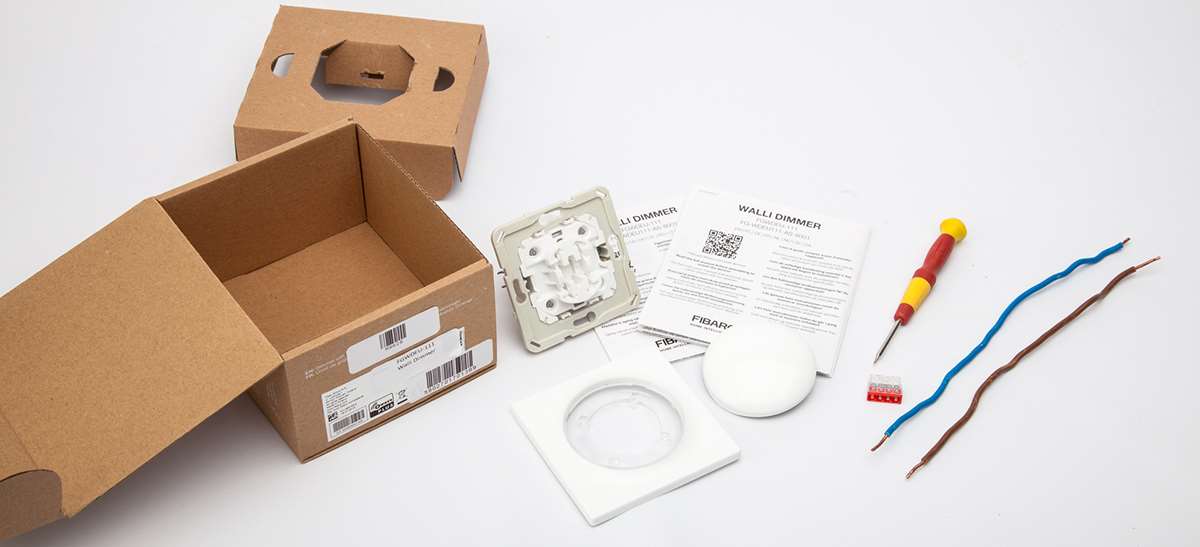 We will install this Walli Dimmer on the following controllers:
- Homey by Athom
- Fibaro Home Center 2
- Fibaro Home Center 3
- Vera Plus
- Domoticz (in collaboration with the Aeon Labs USB Z-Wave stick)
- Home Assistant (in collaboration with the Aeon Labs USB Z-Wave stick)