Neo Coolcam Motion Sensor (5in1)
Review of the new Neo Coolcam Motion Sensor (5in1)
We have already provided a lot of motion sensors with a review. That's not surprising, because if you really want to make your home smart, this sensor is a must have.
Making this really smart is by turning on a lamp. That way you never have to touch your wall switch again. Another application is of course to detect whether there are unwanted visitors in your house.

Neo Coolcam is not an unknown manufacturer, they have been making Smart Home products for several years now. They are a Chinese manufacturer that makes products for a favorable price. The product range is very large because these range from intermediate plugs to door sensors. They make products for various wireless communication protocols. There are products with WiFi, Zigbee and Z-Wave.
We are now going to look at their new motion sensor which uses the new Z-Wave 700 chip. This new chip has the following advantages:
- Better reach
- Battery consumption improved
- Better security
Unfortunately, there are not many controllers that support this yet. But this will change in the future.
Let's move
With this motion detector you can of course detect movement by means of a built-in PIR. This PIR can detect temperature differences between the environment and the object. This heat is not visible to the naked eye but this PIR can detect it.
In addition to this functionality, it has a built-in temperature gauge. Handy if you want to link it to the heating of your room, for example. There is even more, because you also get a lux/light meter and humidity meter. This makes it quite unique because there aren't that many sensors that have all this built in.
USB powered
As a bonus, you can connect this motion detector via USB to always provide it with power. That saves changing batteries. It can of course also run on batteries. Two CR123A batteries are included.
This sensor is for sale for around 35.00 euros, which makes it favorably priced. It is 68 x 56 x 56mm which makes it not the smallest on the market. A foot is included so that you can attach it properly to the wall and turn it in all directions. This foot can be attached with the supplied screws or with the double-sided sticker.
What do you get:
- Sensor
- 2x 123AA Batteries
- Double sided sticker
- USB cable
- 2x screws + 2x plugs
- Manual (English)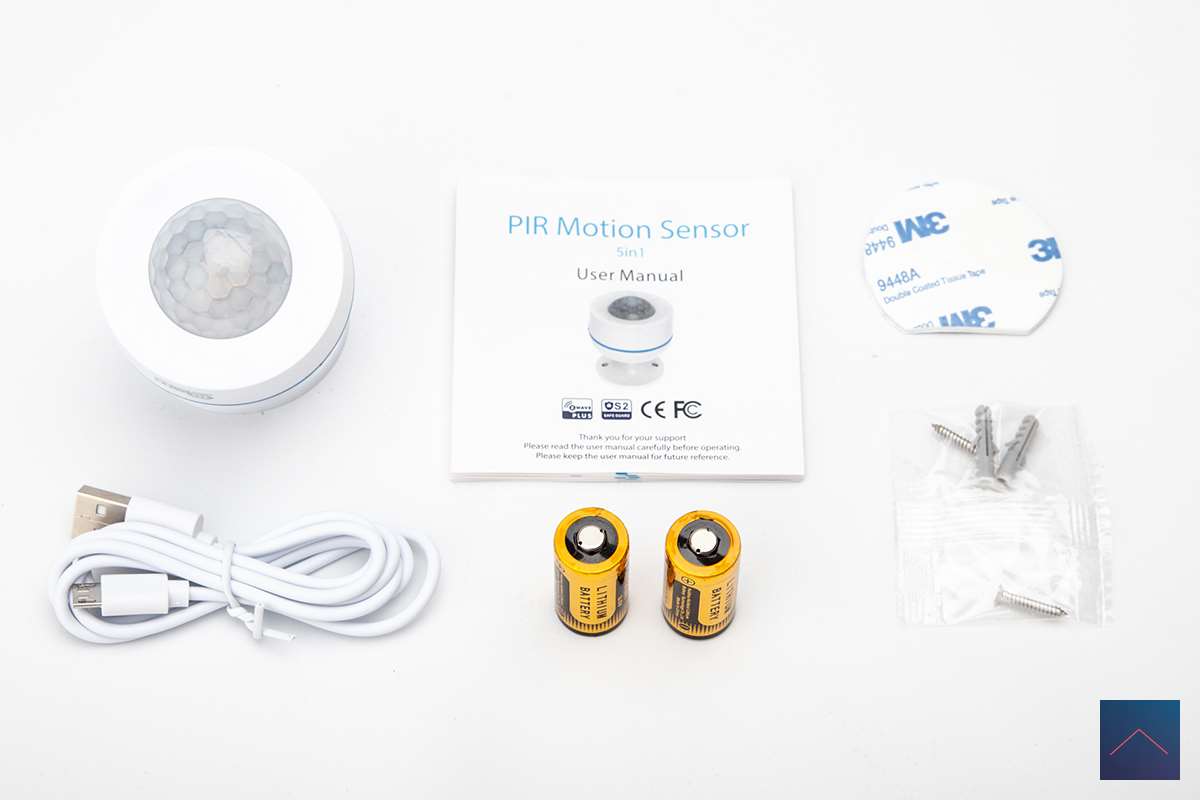 Specifications:
Power

:
2x CR123A of USB
Standby

consumption

:
38uA

Consumption

:
tot 15MA

Detection range

:
10M/120 graden

Range

:
tot 45m (binnen) 80m (buiten)

Dimensions

:
68x56x56mm (sensor + beugel)