Sevenhugs
We never make a review about a remote control and you have two in a month. This time one from Sevenhugs. A manufacturer that started as a kickstarter project.

In June 2016, Sevenhugs raised $ 17.5 million through an investment round. To raise more money and ensure brand awareness, a kickstarter project was started in December 2016. A total of 5,800 people raised more than $ 1 million. So quite a successful start. Like all kickstarter projects, it took a while before it would be delivered. The time had come to the end of 2018.
This remote stands out because it has no physical buttons. Instead, it has a high-resolution screen with which everything can be operated. This screen is 3.4 "large and has an anti-finger layer to prevent stains. The remote control is 136 x 42 x 7.7 mm large. So you can say that it is compact and this is quite a bit at first getting used to, especially if you are used to a Logitech Harmony, the size is actually made exactly so that you can reach everything with your thumb.It weighs only 62 grams, personally I think this is on the light side. have almost nothing in your hand.
It is powered by a 700mA lithium battery which can be charged by USB-C. According to Sevenhugs, the remote should last 2 days. During testing, the remote lasted almost 4 days. If you use it a lot, I notice that the battery drains quite quickly, so it is advisable to always put it back on the charger. You can charge this by placing it in the supplied base. A USB-C plug protrudes here. I must say that I do not find this construction very stable. If you accidentally bump into the remote, it will probably bend. The foot is sturdy because it is slightly weighted.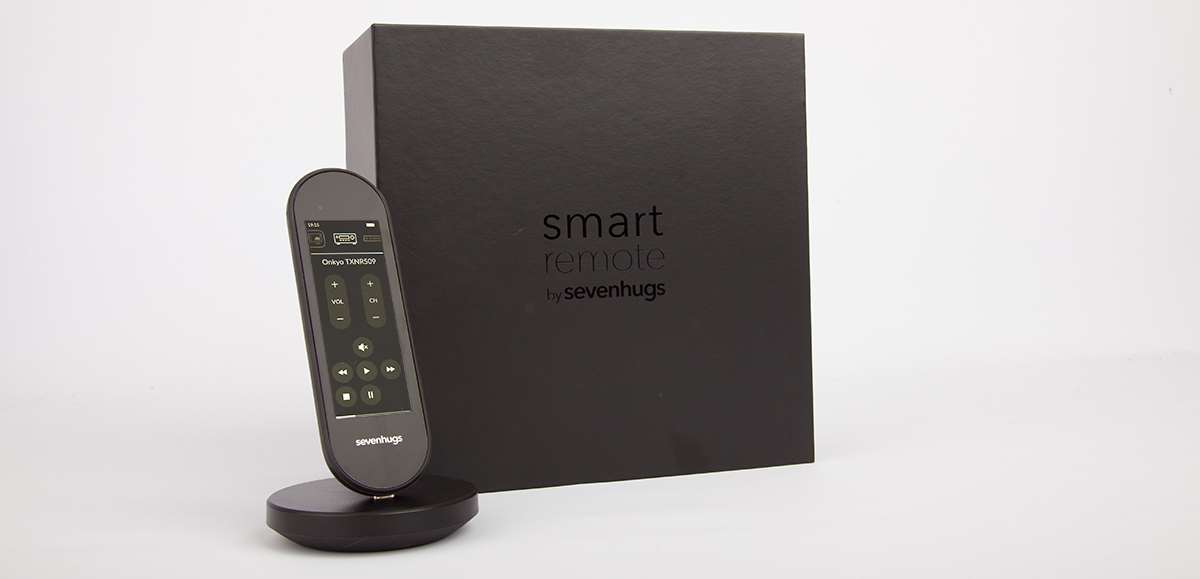 The Sevenhugs works via WiFi, Bluetooth and Infrared. With the latter you can of course control the TV, stereo and media player. According to Sevenhugs, more than 650,000 devices are supported. So the chance that your device is in between is quite high. If this is not the case, you can also learn it yourself. You can, for example, connect your Nest Thermostat or Philips Hue via the WiFi connection.
Nice aiming
Unique to the remote is that you get the opportunity to point to the device you want to wear. He will then immediately show the correct screen. Very handy of course if you have multiple devices. He determines this position by means of the supplied "Room sensors". You can place these at any point in the room. Just make sure they are not too close together.
What do you get:
- Remote
- 3 position sensors
- Instruction manual
- Adapter
- Charging / base station