Xiaomi Aqara Zigbee Shock Sensor
There we are again with a Xiaomi product: this time the Xiaomi Aqara Zigbee Shock Sensor. This is quite a unique sensor because it can register vibrations. He also has a gyro sensor.

With the Xiaomi Aqara Zigbee Shock Sensor you can therefore register vibrations. As soon as you lift the sensor, for example, it will send a signal to your controller. Now you might wonder what the use of this sensor is, well there are quite a few useful applications to think of. You could, for example, stick it to your washing machine. As soon as the program is started, it will detect vibrations and send it to the controller. From here you can make rules to see if he is on or that he is ready. Another application is to hang it on your doorbell / chime. You don't have to think about complicated constructions with the Fibaro Universal Binary Sensor, for example.
In addition to the shock sensor, it also has a built-in gyro sensor. With this you can detect movement. This means that it can also be used as a window / door sensor.
With its 3.60 x 3.60 x 0.90 cm it is super small and you can hang it invisibly. 2 double-sided stickers are supplied for hanging. It is for sale around € 10 (depending on where you buy it).
There is a LED on the front that lights up when you add it. About this later. It works via the Zigbee protocol and is powered by a CR-2032 button cell battery. This is a fairly standard battery and can be purchased almost everywhere.
What do you get:
- Sensor
- Double-sided sticker
- Manual (English / German / Chinese)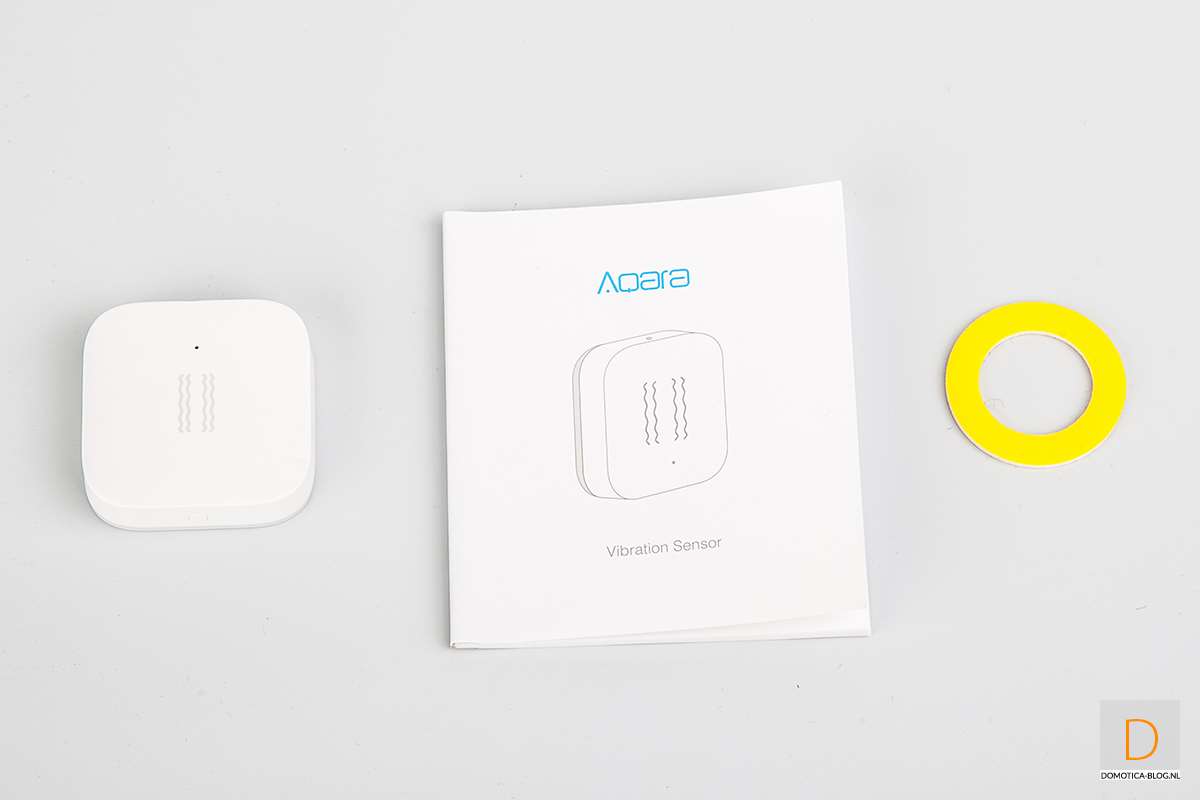 Installation:
We will install this sensor on the following systems:
- Domoticz
- Xiaomi Gateway v2
- Homey
- Home assistant
This sensor can also be installed on Smartthings. As soon as we have provided it with a review, it will also be the turn. I also tried this sensor on the ZipaTile and Vera, but unfortunately they don't work here.
Table of content
This product is for sale for:
---
Xiaomi Aqara Zigbee Shock Sensor
€ 11

Buy
---
;
;