Xiaomi Aqara Zigbee Shock Sensor

Installation via Home Assistant (HASS):
Adding this sensor to HASS is super simple if you have linked the Xiaomi Gateway. The sensor is then added of itself. Of course it must have been added to the Xiaomi Gateway, see above for an explanation.
Dashboard: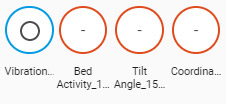 Example flow:
As an example I will use the vibration in the sensor. If it gives a vibration, the lamp in the hall comes on.

Table of content
This product is for sale for:
---
Xiaomi Aqara Zigbee Shock Sensor
€ 11

Buy
---