Aeotec Smart Home Hub - Smartthings
A review of this smart hub from Aeotec.
This Smart Home hub has quite a long history. This hub started in 2013 as a kickstarter project. After a successful campaign and launch, Samsung has taken over everything. In this way, Samsung could easily enter the Smart Home market and connect their own devices well.
This controller was not available in the Netherlands for a long time. You could buy it in England through a roundabout route. Only then you got an English adapter, which is of course not very handy.
Since the beginning of this year, Aeotec has taken over the hub from Samsung and has started to deliver to the whole world. So the hub is now also for sale in the Netherlands.
A smart move by Aeotec! Because they are a manufacturer of Smart Home products that mainly focus on Z-Wave. For example, they have door sensors, motion sensors, switches and products to detect water/leaks. They did not yet have a controller and were therefore dependent on other manufacturers.
It is unclear to us whether Samsung still sells the hub, but from what we understand this is not the case and Aeotec will only sell this product. The development will be done by Aeotec but with the help of Samsung.

What can you do with such a hub?
With this hub you can make your home smart. But what exactly does this mean?
If you have this hub, you can wirelessly control your lamps. This can be done via the APP or via voice if you also have a Google Mini. This is of course not that exciting because the Lidl hub can do this too. What sets him apart is that you can make smart rules.
Think for example of: when you leave home that all the lights go out, your heating is low and your alarm is on. Or when you go to sleep you lower your heating with 1 button, the lights go out and unnecessary devices are turned off, so that they are no longer on standby. The latter is particularly interesting to reduce your power consumption.
You can also think of rules that work with a motion sensor, so that your lights automatically switch on when you walk past. And you can also make it so smart that it only turns on when it's dark. And of course we also make it turn off after 60 seconds. So you no longer have to touch a switch.
As mentioned, this controller works completely wirelessly. But what can I operate and how does this work?
This controller has several radios built in to control this. There is one for the Z-Wave protocol and one for the Zigbee protocol. These 2 protocols are the standards where manufacturers work more. In this way a Philips or Ikea lamp works together with the Smartthings hub. Want to know more about this? Then read this article.
These protocols can be controlled locally and are also locally secured and can also be operated without internet. This is so nice.
There are many devices available, such as; motion sensors, door sensors, lamps, switches, plugs, thermostats, water sensors, etc, etc.
In addition to this protocol, it is possible to connect network devices. This can be, for example, TVs, washing machines, coffee makers and your heating. In this review we will of course test a number of them.
There is also a Bluetooth chip in this hub, but very little can be found about it. This is also not surprising because there are not yet that many BT devices that can be used well in a Smart Home.
What do you get:
- Hub
- Instruction manual
- Adapter
- USB cable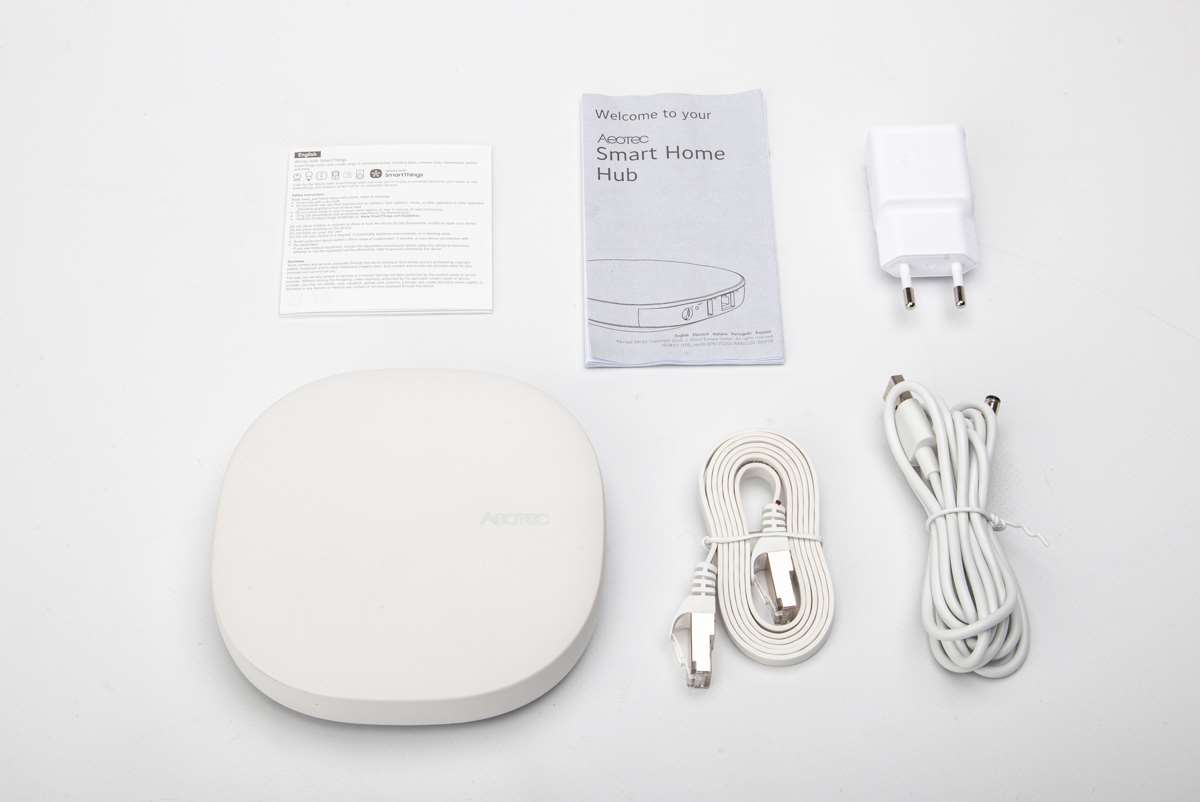 Table of content
This product is for sale for:
---
€ 99
Buy
---
;
;
Related articles