Fibaro Home Center 3 Lite
A review of the compact Smart Home controller from Fibaro, the HC3 Lite.
The HC3 Lite is Fibaro's new compact controller. He is the little brother of the HC3 which we have already provided with a review. In this review we will look at the differences with the HC3 and what you can do with this controller.
Fibaro has been the market leader for years when it comes to Smart Home controllers that work with the Z-Wave plus protocol. They presented a new version of their controller at the beginning of 2020, which is the successor to the HC2. This one is called very surprisingly: the HC3. A simpler version of the HC2 was always available, which is cheaper but has some limitations.
And you guessed it, this HC2 Lite is now also an HC3 Lite. This version is again faster than its predecessor and uses the new interface for operation.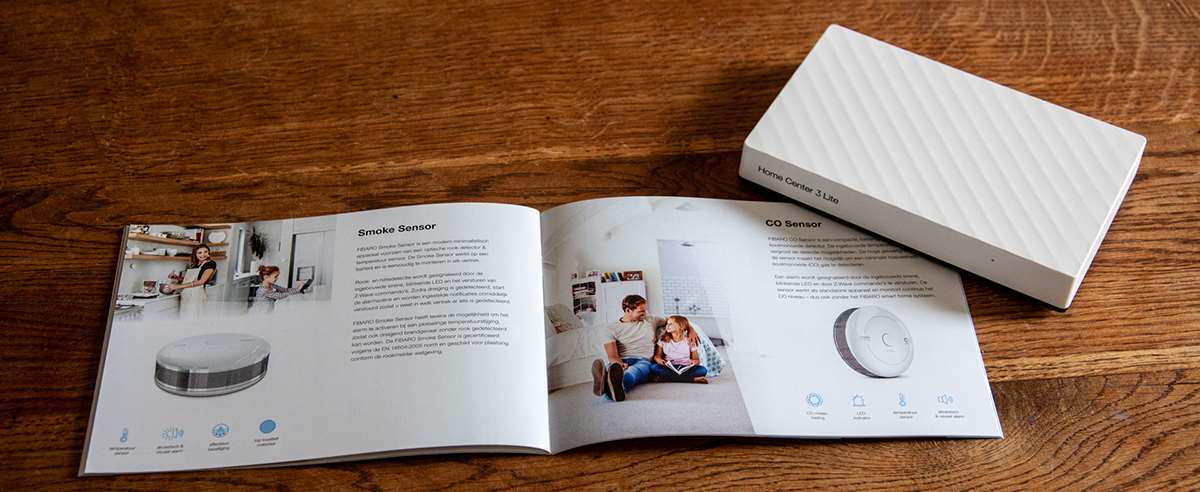 The HC3 Lite is equipped with the new 700 chips from Sigma. With this variant you get even more speed and you can bridge longer distances. It is equipped with WiFi (2.4GHz) for communication to the outside and to your phone/computer. Unlike its competitors, this controller can run completely standalone and therefore does not require a cloud connection.
All nice of course such a controller, but what can you do with it?
You should see a Smart Home controller as a bridge between your lamp and its control. Controlling this is not just turning the lamp on or off, but also making your home really smart, by means of different rules.
With these rules, which you can easily click together yourself, you can, for example, arrange that your lighting is switched off when you are away from home. If the controller knows that no one is home, it can also lower your heating and immediately turn on the alarm.
The HC3 Lite can therefore not only control lighting, but also your television, alarm, heating, air conditioning, etc, etc. The possibilities are endless.

What do you get:
- Fibaro Home Center 3 Lite
- USB adapter with cable (USB-B)
- Short starter guide
Specificaties:
| | |
| --- | --- |
| Processor | Single-core Arm Cortex A7 (900 MHz) |
| RAM | 512 MB |
| HDD | 4 GB |
| Power supply | 12V DC |
| Dimensions | 178 x 110 x 31 mm |
|   |   |
| Protocollen | Radio Frequencies |
| Z-Wave (800) | 868.0-868.6 MHz 869.7-870.0 MHz |
| Wi-Fi (802.11 b/g/n/a/ac) | 2400-2483MHz |
Index:
Installation
Add device (Base + Z-Wave)
Add Device (Others)
Google Home & Alexa
scenes
Energy, Alarm, Climate and Irrigation System
APP
Differences HC3 and HC3 Lite
Frequently Asked Questions
Conclusion