Fibaro Home Center 3
Review of the Smart Home controller the Home Center 3
Long, long ago there was a prince and he came to rescue a princess from a high tower. No, this is not how the Fibaro Home Center 3 review should start. But it has been a long time since Fibaro launched the Home Center 2. To be precise in 2010, this controller was the promising prince who came to save all not so smart houses ...
For a long time the Fibaro Home Center 2 was the Rolls Roys of smart homes, but the competition was of course not standing still. This competition supported more protocols and Z-Wave's successor, the Z-wave plus protocol, was supported. The user interfaces of these systems were also somewhat more user-friendly for the consumer. Fibaro has of course also seen this movement and have upgraded their Smart Home hub.
This upgrade came out in early 2020 in the form of the Fibaro Home Center 3. This controller has a faster processor, more memory and more storage capacity. It has also become more secure than its predecessor as it works with Kaspersky Labs for security.

1 device for everything
The HC3 now supports multiple protocols in addition to the familiar Z-Wave wireless protocol. This Z-wave has been upgraded to the plus version, so even more speed and longer distances can be bridged. Support is now also offered for Zigbee. This protocol is best known from Philips HUE, Ikea and INNR. These devices could already be used on the HC2 but from now on, if all goes well, they can also be connected directly. We will of course test whether this is also the case.
The HC2 has a UTP/Ethernet port for fast access but can also be used via WiFi (2.4ghz and 5ghz). In contrast to its competitors, this controller can run completely standalone and therefore does not need the Cloud connection.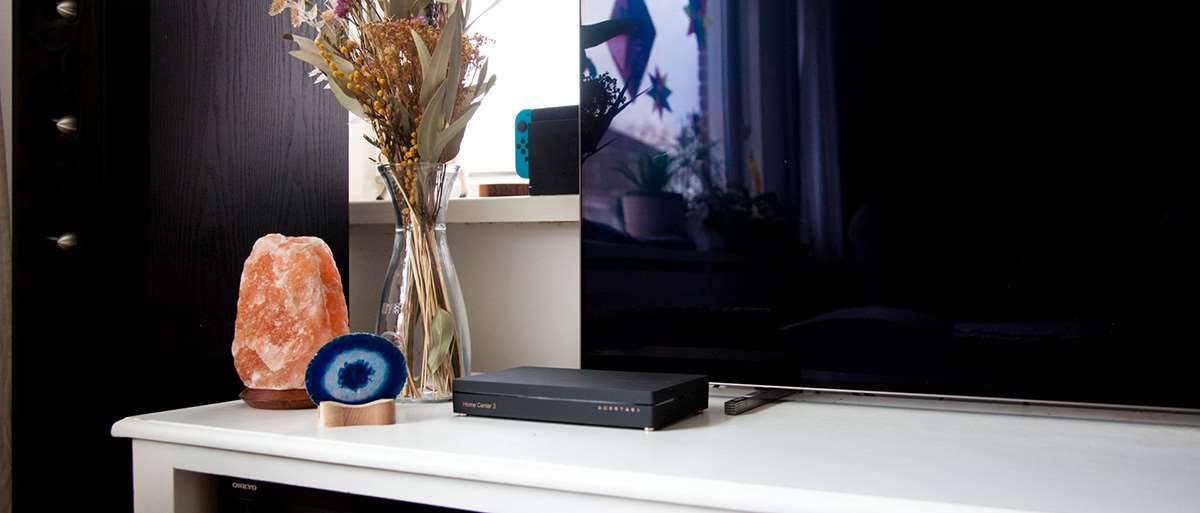 Approved for beginners and pros
Controlling your house is of course super cool, but it must all remain understandable. The HC2 already responded well to this by controlling various options for automating your home. There were even 3 ways.
In the HC3, Fibaro has of course also worked on this again. We'll show you the options later in this review.
What can you do with this HC3?
Regular readers already know exactly what this controller can do and will skip straight to the final conclusion. I can imagine that this is not self-evident for novice users. The HC3 is a smart home hub that allows you to control various devices in your house. Think for example of your heating, lighting, audio equipment. In addition to this, you can use the HC3 for your alarm and to control your watering in your garden. In addition to switching these devices on and off, you also get the opportunity to make smarter rules.
In short, the HC3 is a central hub to control your home. In this review, in addition to the usual matters, we will also discuss the various options. Read on here to see the possibilities.

What do you get:
- HC3
- Nutrition
- UTP cable
Specifications:
| | |
| --- | --- |
| Processor | Quad-core Arm Cortex A53 (1.2 GHz) |
| RAM | 2 GB |
| HDD | 8 GB |
| Power Supply | 12V DC |
| Dimensions | 220x140x35 mm |
|   |   |
| Protocols | Radio frequencies |
| Z-Wave (500) | 868.0-868.6 MHz 869.7-870.0 MHz |
| 433MHz (OOK, FSK, GFSK) | 433.54-433.92 MHz |
| 868 MHz (OOK, FSK, GFSK) | 868.3-868.94 MHz |
| ZigBee | 2405-2480MHz |
| Wi-Fi (802.11 b/g/n/a/ac) | 2400-2483MHz 5150-5350MHz |
| Bluetooth Low Energy | 2402-2480MHz |
Read on to the possibilities of this smart home hub.