INNR Outdoor Smart Spot Colour
A review of this outdoor spot from INNR.
We have received some products from INNR again. This time a spot that you can use outside. We are going to see whether this spot is an addition to our system.
INNR is a Dutch manufacturer of Smart Home products. They mainly focus on lighting using the Zigbee protocol. Due to the support of this protocol, their lamps can also be used on other Smart Home hubs than their own.
There is support for Philips HUE and the Homey. More on this later.
Let's go back to the Spot for a moment. This outdoor lamp is ideal for illuminating a part of the garden. Think, for example, of a tree or a balcony. This spot has the ability to create 16 million colors. So your color is probably there. There are 7 white LEDs and 7 colored LEDs available to get this done.
It has a power of 4.5W, which is equal to 32W with an old-fashioned lamp. There is a beam angle of 45 degrees which is not a very wide beam but just good for highlighting something. The lamp can of course be switched on / off (which is handy) and there is a dimming function.
The spot is for sale for 34.99 euros and the 3 pack for 139.99 euros.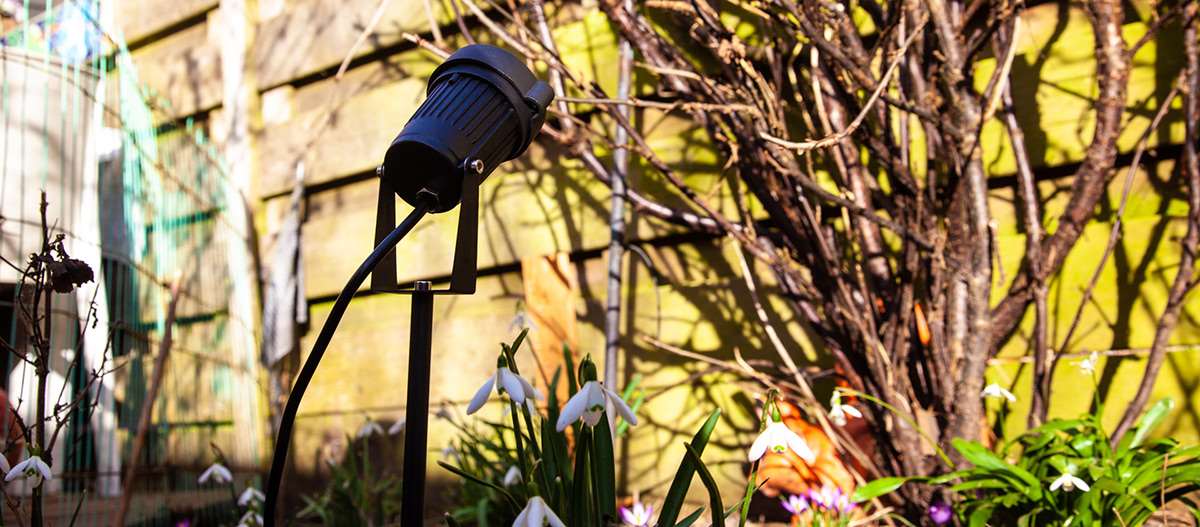 Hang or stand
You can easily hang these spots because there is a bracket attached to the lamp. This bracket allows you to turn your lamp in all directions so that you can illuminate your object well. It is also possible to use the supplied pin so that you can fix it in the ground.
The lamps are mutually connected by a smart system that you can tighten tightly. The last lamp can be placed at about 9 meters from the socket. You also have 30 cm from the main wire to the pole, so you can dig the main cable well into the ground. Very safe, if you still put a shovel in it, you will not be immediately under power because the lamps are 24V.
This spot is supplied in a set of 3 lamps or as a separate lamp. The set includes a transformer and the part for the zigbee control. You cannot use the spot separately.

Extra power:
This spot, or the set of 3, is of course nice to combine with the INNR Pedestal set. See a review of this set here. If you also connect this set (and have more than 5 lamps), the transformer does not supply enough power. INNR has the "Outdoor power supply - 48W" in their range for this. If you use this you can link all lamps together and operate with a controller and you can connect up to 10 lamps.
What do you get spot:
- Instruction manual
Spot
- Pin (+ riser)
- Screw and plug
- Allen key (2 sizes)
- Cable (2 meters)
What do you get spot 3-pack:
- Instruction manual
- 3x Spot
- Transformer
- Zigbee control
- 3x Cables
- Pin (+ riser)
- Screws and plugs
- Allen key (2 sizes)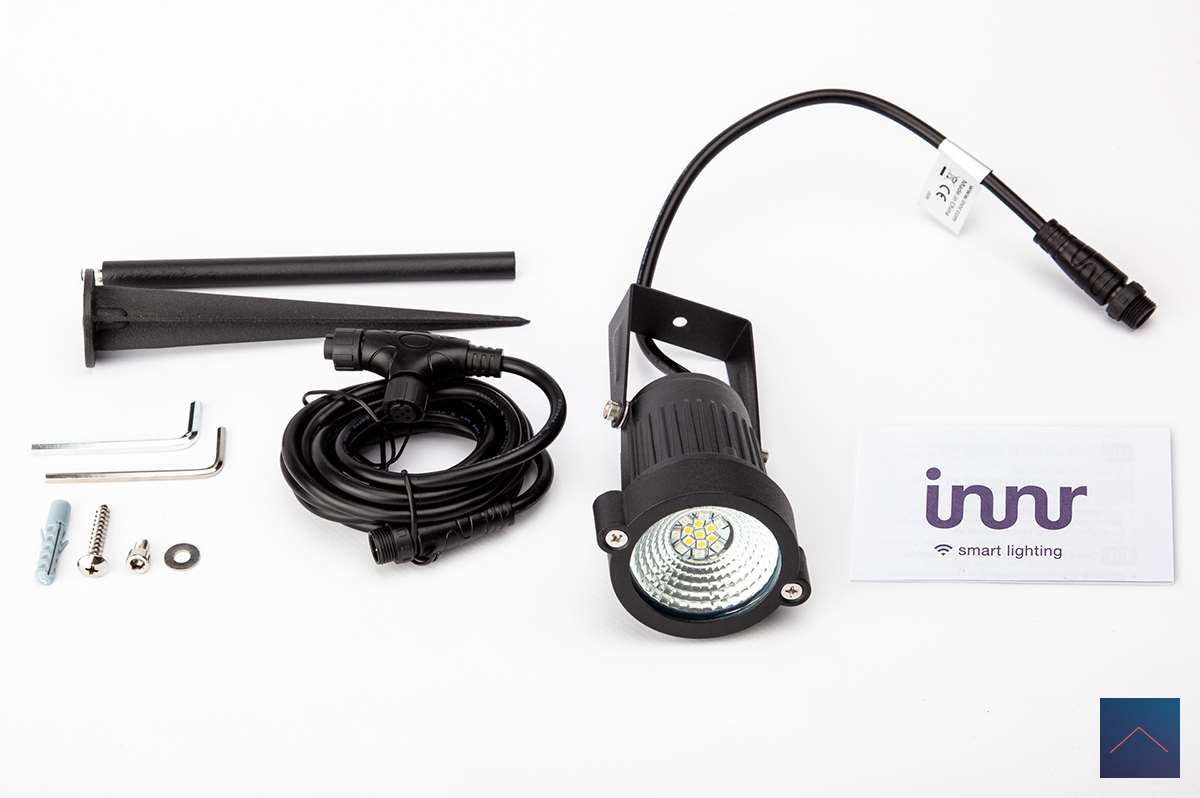 Specifications

:
Quantity of colors

 
16

million

Colors temperature

 
1.800 - 6.500K

Light quality

(CRI)
 
> 80
Lumen (per unit)
 
215 lm

Quantity of LEDs

(per unit)
 
7

white

led en 7 RGB

Life expectancy

 
30.000 uur

Power consumption

(per unit)
 
4.5W
Protocol
 
Zigbee
IP rating
 
IP65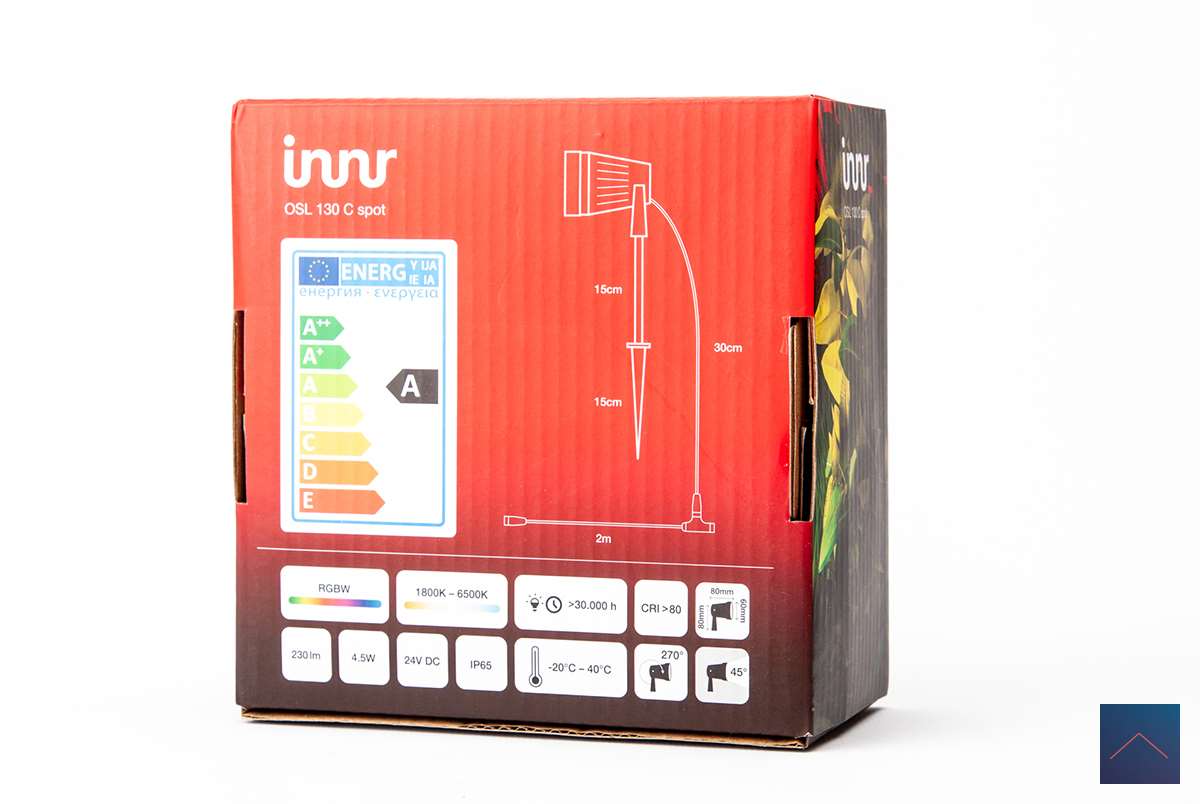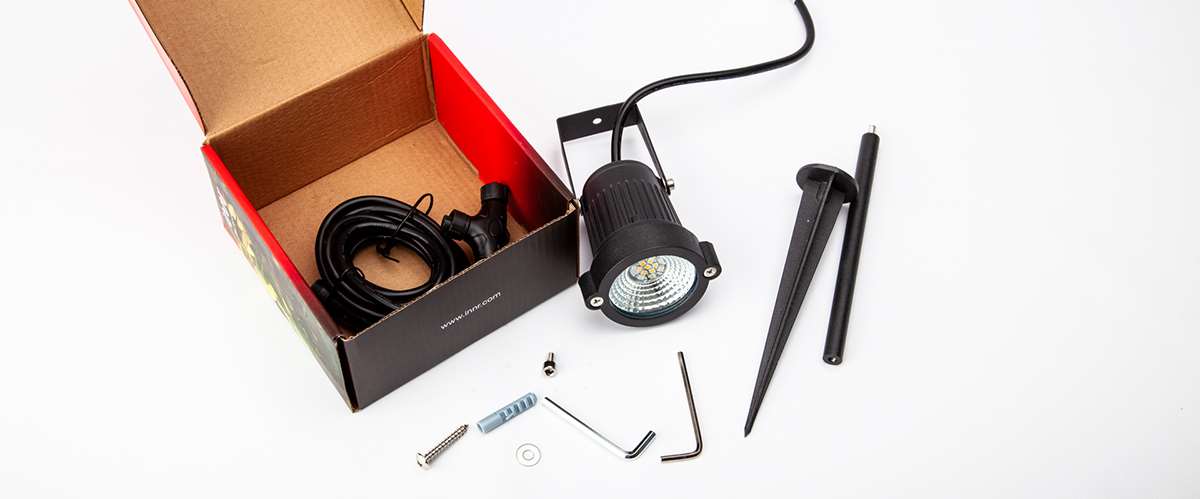 We will install this spot on the following controllers:
- INNR gateway
- Homey by Athom
- Philips HUE
- Vera Plus
- Ikea Tradfri