ZipaTile
Zipato has released a new controller this year: the ZipaTile. After we have already made a preview, it is now time for a full review.
Sit down for a moment because this is quite a long story.
The ZipaTile controller is made by Tri Plus Grupa, based in Croatia. In 2010 they started with home automation. Zipato currently has 3 controllers on the market. The Zipabox, ZipaMini and the ZipaTile. All three use the same interface and therefore all three have approximately the same functionalities.
The ZipaBox is the main controller and distinguishes itself by the possibility to connect modules (such as 433Mhz, backup module, security module, etc). The ZipaMini is the simplest variant and can only control Z-Wave. The Zipatile is a bit between these 2 controllers. It is intended as a wall control for your home automation system and has a large screen to make this easy. There are 2 variants, one that only works with Z-wave and one that also works with Zigbee.
With the ZipaTile you can, for example, remotely control your lamps, devices, heaters and alarm. To operate a lamp you will have to install modules. You connect these modules wirelessly to the ZipaTile. This communication is via the Z-Wave protocol.
The ZipaTile has a user-friendly interface that makes it easy for most users. You do not have to have any programming knowledge. But some skill is very useful if you are going to make more complex rules.
The unique thing about this controller is that you can also use it as a control panel. Very handy to have a fixed point in your house where you can, for example, turn your alarm on / off. It can be mounted on the wall so that you can operate it easily.
This controller has Andriod 5.0 as operating system. Zipato has made a nice integration with this. Unfortunately, there is no google play store running, but it is possible to install separate APPs (via an APK file). Zipato indicates that he is working on this.
"More than just a controller"
Various sensors are built into the controller:
Sound (speaker and microphone)
Light (via LEDs) Humidity
Temperature (internal and external)
MovementShock

There is also a 2MP camera built in which can also be used in the rule creator. More on this later.
It is for sale from € 349.00 through our partner.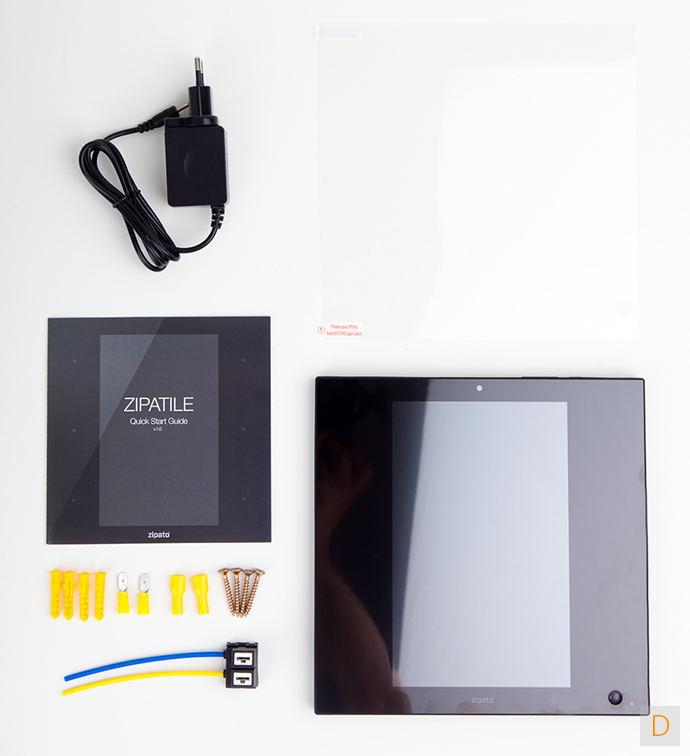 What do you get:
- ZipaTile Manual
- Screws and plugs to fix it to the wall
- Connection terminals
Specifications:
System:
- Android 5 Lolipop
- ARM Cortex-A9, Quad-core 1.6GHz CPU, 1024MB RAM, 8192MB FLASH
Flow:
Current input: 5VDC
Adapter input: 100-240VAC, 50 / 60Hz
Power consumption: <2W (idle), 7W (max.)
Backup battery: Li-Ion 3.7V 2000mAh
Input / Output:
- Touch sensitive 8 "screen, 800 × 1280 px
- 6 programmable scene buttons
- Dual dry output 230VAC, 1A
- Dry input 12-24VDC
- External temperature sensor (1-Wire DS18B20)
- 2MP video camera
- Muti sound alarm sirens
- SD card
- Speaker 8Ω / 0.5W
- Microphone
Sensors:
Sound
Light
Humidity
Temperature
Movement
Shock