Settings
We will now continue with the general settings of the Homey.

APPs
As already mentioned, it is possible to install APPs on the Homey. In the APP section you will find all installed APPs and a link to the store (https://apps.athom.com/). Homey is an open platform which makes it possible to add APPs yourself. More controllers have this option (Fibaro/Vera). The problem with this is that these APPs are often not made by an internal programmer.
As a result, the quality may not be in order. And if the programmer no longer feels like it, these problems are often not solved either. The advantage is of course that everyone can add something and sometimes very nice and useful things are made.
The most important / most commonly used APPs are made by Athom itself. Such as the possibility to add Fibaro modules, but also the Nest products come from themselves. I also see new updates coming in regularly. So good work is also being done on keeping the APPs.
Some examples of APPs
Rain radar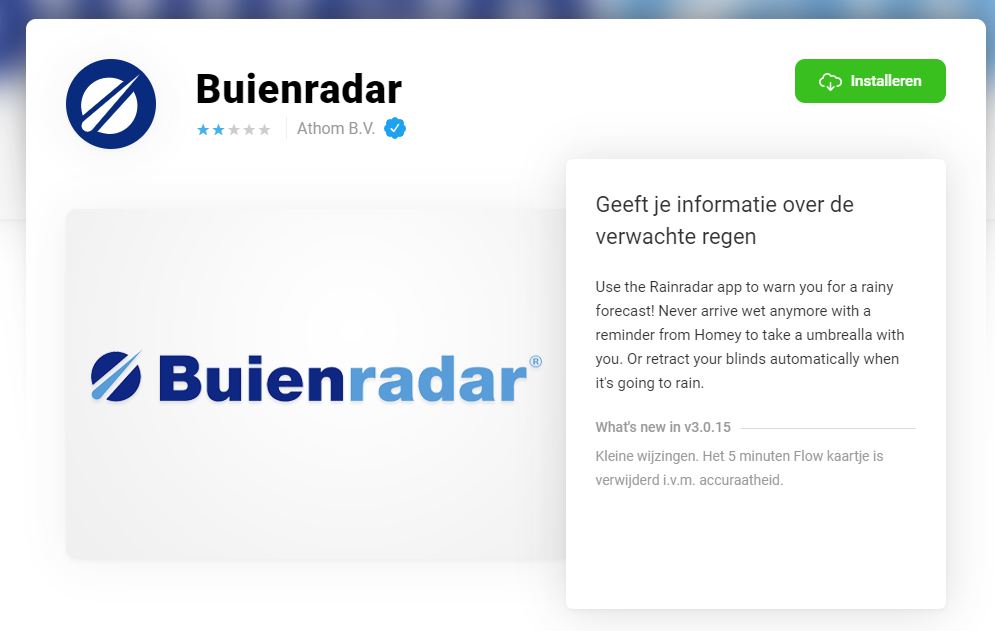 You can request the weather forecast from the Homey.
Soundboard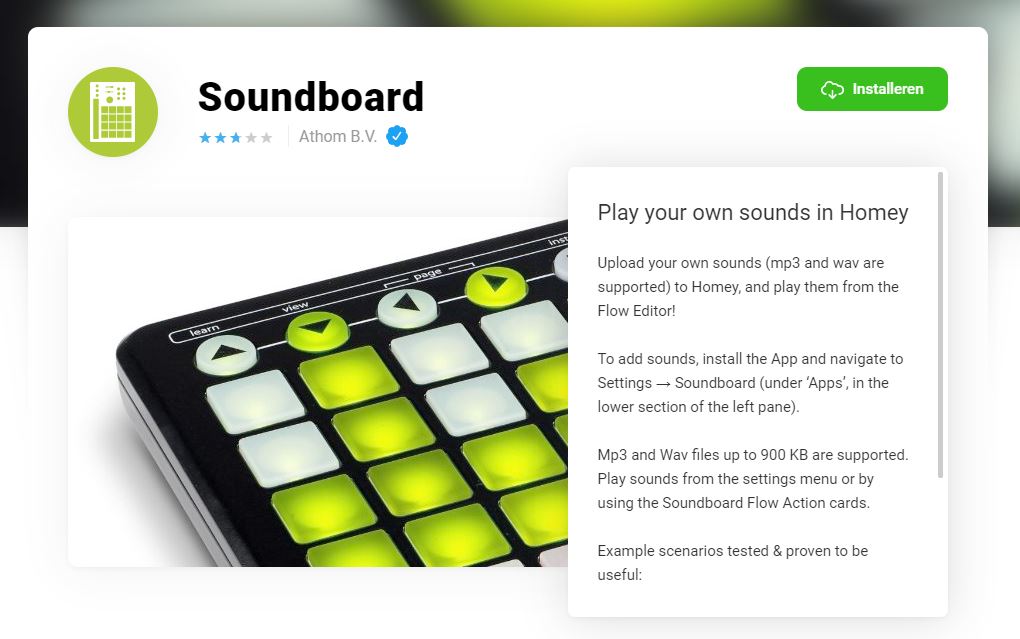 You can have the Homey play its own mp3 file.
IFTTT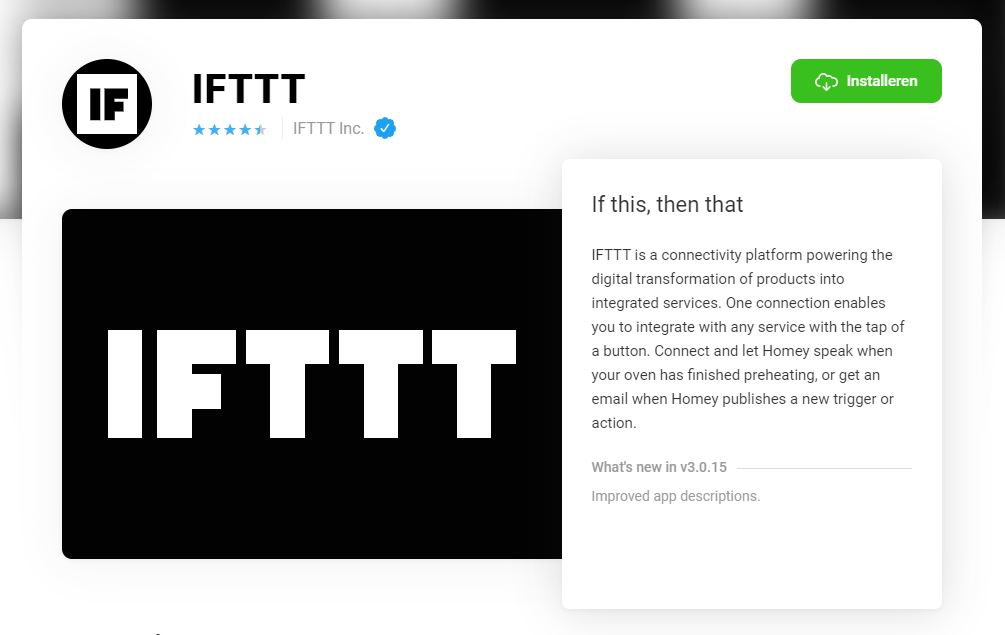 Link with IFTTT. Here you get the possibility to connect thousands of other devices. See also the channel at IFTTT: https://ifttt.com/homey
KODI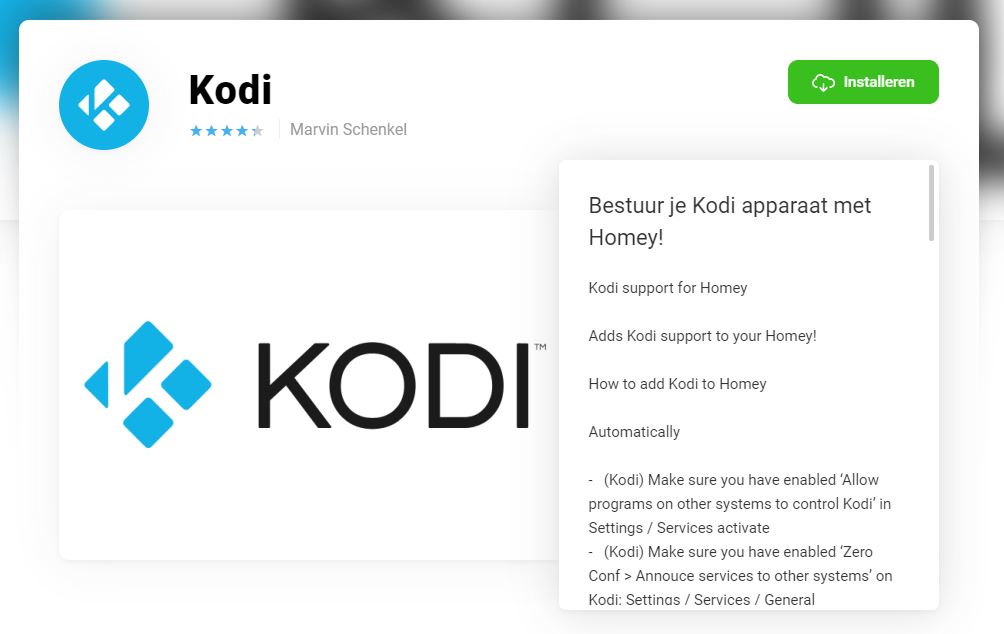 Link with media player that Kodi runs on.
Other APP settings:
General:
In this section you will find the disk space, memory usage and firmware version. There is also a possibility to send a log to Athom (if there are problems). And if your Homey no longer runs smoothly, you can restart it here.
Privacy:
In this screen you can switch on/off whether Homey should keep track of your position.
Speech:
Here you can set the speed and whether a man (Ruben) or a woman (Lotte) can speak to you.
Sound:
The sound level of the speaker.
Led ring:
You can set the brightness of the LED ring here and switch the screen saver on / off.
Language:
There are 2 languages ​​available: Dutch and English
Location:
The Homey has the option to retrieve the location of your house via the APP of the phone. You can also select a location yourself.
Notifications:
Here you can set which applications are allowed to send notifications. Notifications are also shown at the top of your screen.
Z-Wave
Here you will find the settings of the built-in Z-Wave chip. You can reset the entire Z-Wave Network, remove a device, add your Homey to another network (not working yet) and there are some settings / information for the geeks.
Zigbee
Very surprising you will find the Zigbee settings here.
Users:
In the user area you can give someone access to your Homey. It is not possible to assign different roles / rights, so a user can do anything.
Updates:
Here you can indicate whether you want to automatically receive the latest updates. In addition, there is an option to install Beta firmwares. Of course, this entails the risk that your Homey will no longer work properly.
Experiments:
Here you can set whether or not you want to use experimental functions. There is an Apple Homekit coupling, built-in microphone and virtual devices function. As the name suggests, these have not yet been fully tested and further developed. So install at your own risk.
Insights
The insight section provides insight into what your devices do. You can see, for example, what the temperature trend is. This section has been set up extensively. You can look back in time, export the graphs, create a CSV file from the data, delete everything and change the graph type.
You can also check multiple sensors to compare them with each other, which you can then save as a template. Another good point is that the data is securely stored locally and therefore no third party can access it. Other controllers can take another example here.
It is a pity that you cannot see the on and off action. I find that a bit strange. It is desirable to be able to see your variable. If we are busy with the negatives then it is also a shame that these graphs are not in the APP. Incidentally, it is possible to view a limited logging in the APP.
Developers section:
In addition to the APP, there is also a web part of the Homey. Athom calls this the developers part. Here you can restart the homey, view the performance and view system data. You will also find all the devices here (Z-Wave, BT, Zigbee and 433Mzh) and you can get a comprehensive overview of your network. This way you can see what your network connection is between the different devices. You can also find your network heal here to rebuild your network. Very useful feature to ensure that everything continues to work properly.
For developers you will also find the Web API and SDK here, all of which are very well documented. As a developer you can go completely crazy with this system. Finally, you will also find the firmware versions and server status here.
Safe everything backed up
A tricky point with Homey was always that no backup of your configuration could be made. As a result, you lost all your settings, devices and flows in the event of a crash. Not a very reassuring one. Fortunately, Homey has now built in this capability. A backup is automatically made every night and 7 versions are saved for you. You can manage this via: https://homey.app/en-us/account/backups/.
You can restore a backup if you have a new Homey, for example. Making a backup is not free, you have to purchase a subscription. This costs 1 euro per month or 10 euros per year.